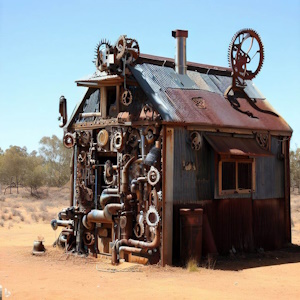 G'day and welcome to AntipodeanSF Issue 300. Yes, we made it this far, so please stick around now and read a bunch of stories that range anywhere from steampunk sheds to seriously silly spaceships.
Twenty-five years and 300 issues and we're still devoted to the regular monthly publication of fabulous and original science-fiction, fantasy, or horror mini-stories of about 500 – 1000 words each, with occasional feature stories of 2000 words and beyond. This is our second celebratory issue this year, featuring two-dozen twisted tales. Coming soon is a paper anthology "AntipodeanSF 300-25", featuring the stories in this issue, and also the fifteen that appeared in Issue 293 in February — our 25th anniversary edition.
Crikey! Nuff said for now. Scroll down and get reading, because:
You are about to launch into an adventure with Australia's longest-running online speculative fiction magazine.
Nuke.