SF Quotes
" May the Force be with you! "
George Lucas, Star Wars
Facebook AntiSF
Login Form
Why Not Visit

Do you like your SF in audio?
Of course you do. Well, why not visit Beam Me Up Podcast and radio show, often featuring selected stories from AntipodeanSF, run by your host Paul Cole of WRFR.
Next Issue
Cappuccino Twilight
By Ed Errington
The Strike
By Grant Terry
The Goodbye
By E A Fow

The Intercept
By Luis Shalako
The Facts In The Case of K Klown
By Anthony Owens
Searching
By Mark Tremble
Art, Ink
By Jason Fischer & Martin Livings
End of An Era
by Antoinette Rydyr
Popular Stories
Welcome to AntipodeanSF

AntiSF on the edge of its deadline...or is it on top of Australia?
Something new this month, but you will need to work to access it. This and future issues will feature — shock, horror, rampant speculation — somewhat longer than 500 word stories.
How's that? Simply reading the vanilla website won't do, but here's how to get your Easter eggs out of season:
Michael Valentine Smith and I will grok you again next issue. Grumbles.
Nuke.
Speculative Flash Fiction

You're about to launch into an adventure at AntipodeanSF, the online magazine that's devoted to the regular monthly publication of fabulous and original science-fiction, fantasy, or horror mini-stories of about 500 words each.
AntipodeanSF will entertain you, yet won't take hours to read.

Please spend a few moments to read this month's stories, reviews, and other information about down-under SF.
AntipodeanSF is also optimised for reading on your i-phone, i-pod, other mobile phone, or PDA device. Read us anywhere!

| | | | |
| --- | --- | --- | --- |
| Eulogy For An Uncommon Man | | | |
In life he was a gentle giant with a cheerful disposition; quick with a quip and eager to lend a helping hand to all who needed it.
In death he was a predator, swift with a bite and rake of claws, keen to sever an artery and dine on brains.

| | | | |
| --- | --- | --- | --- |
| The Lord of Lies - by Sam Bowring | | | |
Review by Jean Gordon
The Lord Of Lies, by Sam Bowring, Hachette Australia, August 2012: Book Two of the Strange Threads Duology.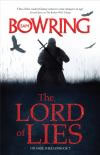 I was very eager to pick up The Lord of Lies. The Legacy of Lord Regret had left me hanging, and I was very much looking forward to what I had every reason to expect would be a conclusion equally as strong as the start. As it turned out, while the book was very good, I don't know that it quite stands up to the first one.
The story picks up directly where The Legacy of Lord Regret left off, with the various players still trying to find (or make) a place for themselves in the world. Some, as one would expect, are doing better than others.
Read more...
The Host - 2013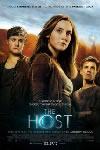 I bet there are some brown-eyed people who look upon blue-eyed people as aliens. Well, now it's official. In Stephenie Meyer's film, The Host, your eyes change to a cold pale blue when you've been taken over by an alien.
Melanie, played by Saoirse Ronan, who also starred in Lovely Bones, is taken over by a host 1,000 years old called Wanderer.

Read more...
Today I graduated magna cum laude with a Doctorate in Floor-Sweeping.
Tomorrow I attempt yet again, my Doctorate in Nose-Blowing.
Maybe one day I'll be able to afford a Masters in Pure and Applied Arse-Licking, and can get a job.


The AntipodeanSF Radio Show delivers audio from the pages of this magazine.
The monthly program features all of the issue's stories, usually narrated by the authors themselves, with occasional reviews, news, interviews, or longer stories.
The AntipodeanSF Radio Show is broadcast in the Nambucca Valley, on the Mid North Coast of NSW on one Sunday evening a month, on community radio, 2NVR, 105.9FM.
You can find every episode online here: http://antisf.libsyn.com
Or listen to the latest show right here, right now:

New Books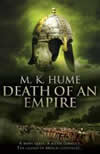 Prophecy: Death of an Empire

M. K. Hume

The second dramatic episode in the heroic life of Merlin.

Merlin's epic quest continues as he journeys to Constantinople in search of his father.

Myrddion Emrys of Segontium is the product of a brutal rape, but when King Vortigern hints at his father's identity, Myrddion embarks on a journey across France and Italy to Constantinople.
Read more...