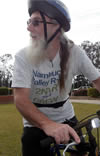 Flying potatoes and all, Issue 200 looms with a vengeance — and it's coming together well.
There's still room for more, though, and I urge you all to get those submissions in soon. Perhaps you and your story will be selected to form a part of the celebration of Australia's longest running online speculative fiction e-zine.
I'd especially like to see submissions from those with first-time publication credit with AntiSF. There are many of you out there. Similarly, I'm calling for submissions from those with a former history of regular contribution.
Get them in soon, right here — where down-under speculative flash fiction belongs.
That's it. Signing off and reading more stories from my submission queue.
Meanwhile, enjoy a ten-strong feast of fiction in Issue 196.
Till next we orbit each other at the outer edges of the Great Attractor, the centre of Laniakea.
Nuke.