SF Quotes
" Any sufficiently advanced technology is indistinguishable from magic. "
Arthur C. Clarke
Facebook AntiSF
Login Form
Why Not Visit

Do you like your SF in audio?
Of course you do. Well, why not visit Beam Me Up Podcast and radio show, often featuring selected stories from AntipodeanSF, run by your host Paul Cole of WRFR.
Next Issue
Cappuccino Twilight
By Ed Errington
The Strike
By Grant Terry
The Goodbye
By E A Fow

The Intercept
By Luis Shalako
The Facts In The Case of K Klown
By Anthony Owens
Searching
By Mark Tremble
Art, Ink
By Jason Fischer & Martin Livings
End of An Era
by Antoinette Rydyr
Popular Stories
Guidelines
AntipodeanSF is always on the lookout for good short-short SF.
Don't be afraid to 'ave a go


AntipodeanSF is devoted to 'down under' science/speculative fiction stories of about 500 words or less.
Yet while its intent is in part to highlight and promote Australian/NZ writers (who are, after all, resident in the antipodes), the meaning of antipodean is not limited by the editor to a mere description of locality. Thus AntipodeanSF is open to submissions from anywhere in the world, as long as the story has a surprise ending, twists normal notions of SF/F/H upside-down, is especially humorous, takes an oblique perspective on otherwise 'normal' events, or attempts to subvert the foundations of Western capitalist ideology (for example).
Read more...
New Books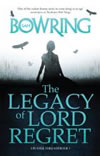 The Legacy of Lord Regret: Strange Threads Book 1
Sam Bowring
Book One of the STRANGE THREADS duology. Centuries have passed since the Wardens slew the tyrant Lord Regret, but while the Wound that he ripped in the sky remains open, the earth trembles and the sun vanishes without warning.
The great warrior Rostigan wanders Aorn, weary of battle and unwanted renown. With him travels his lover, the minstrel Tarzi, who hopes she may soon witness further deeds from him worthy of song and tale. Despite Rostigan s reluctance to re-enter the world, she may get what she wishes for . . .
Read more...