By Lynne Lumsden Green
"Did you know that the origins of meaning of 'bonfire' was bone fire?" said Belladonna, studying the depths of her cocktail. "Bones burn. In ancient times, bone fires were used in purification rituals, and couples leapt over them to be wed, but now a bonfire is just a pile of rubbish piled up to make a pretty fire." She took a sip of her drink, looking up at Bruno from beneath her eyelashes.
He hadn't wanted to go the party. He loathed wearing fancy dress. But Jack had promised him the drinks would be straightforward and not themed cocktails with pumpkin spice added. Reluctantly, Bruno had bunged in some fake vampire fangs and slicked his hair back with Brylcreem. He hoped he wouldn't regret letting Jack persuade him.
The gathering was still low key when they had arrived, with people standing in awkward clumps waiting for someone else to be the first to get into the party spirit. Jack had hived off as soon as they walked into the backyard of the host's home. Bruno watched him go with a mixture of relief and resentment. Jack threw himself into a round of friendly greetings and catching up on gossip.
Left to his own devices, Bruno had chosen to stand near the buffet and study the crowd. He helped himself to a rum and coke, trying to sort out the social interactions of the group. Belladonna had been sitting by the pool. She was wearing a classic little black dress, with a cape thrown over the back of her chair; it was a balmy Brisbane night and it was too hot to wear velvet. Her eyes glittered green and red, reflecting the coloured fairy lights strung through the trees. Bruno decided she looked intriguing and he found it easier to cope with meeting strangers one at a time.
As he sat down beside her, he'd said, "I don't bite. Or sparkle."
He had been rewarded with a genuine chuckle. Encouraged, he introduced himself. Five minutes later they were deep into a discussion about the traditions surrounding Hallowe'en.
Belladonna continued her lecture on the issues around the celebrations of the old feast days. "That's the problem with our modern world; we've only half forgotten all about the old ways and traditions. We keep the bits and bobs that are fun. We make sure the bride is wearing something old and something new, something borrowed and something blue, without knowing why, and the traditional sixpence in her shoe as a ward against bad luck has been lost to memory. It is those forgotten charms that are the knot of the problem."
"Why?" asked Bruno. He was finding her theories more interesting than he expected. Or maybe the rum was making him mellow.
"The bad luck would keep building up," she replied. "It's lurking in dark corners. Without a magical whisk broom to sweep them away, ill fortune might breed like maggots in an abandoned carcass."
Bruno's nose wrinkled at the metaphor, but Belladonna ignored his expression of disgust. She added, "The backlash against the threat of bad luck would create a black market in amulets and charms … in particular, the fingerbones of witches. They are meant to be the most powerful charm against dark magical forces."
Bruno looked down at his own hands. "That's horrible. I can see all sorts of scenarios happening. Witches having their hands cut off while they are still alive. Grave robbing. And there would be no guarantee that the bones are from an actual witch. No woman would be truly safe."
"Indeed. The superstitious with money might take to wearing necklaces with a set of gilded bones dangling from pretty chains. They wouldn't bother hiding the shape of the phalanges and carpels. They would want that you could see the bones and what they meant."
Bruno shuddered and clenched his fists, so that his fingertips were curled against his palms. "That is so gruesome," he said. "That's dank."
"Germany was experimenting with making soap out of people less than a hundred years ago. Is it any more gruesome than that?" asked Belladonna.
"No. Sadly … no." Bruno was glad he had yet to eat. The thought of such cruel practices made his stomach churn. His voice shook as he said, "Humanity would rather make money than survive. Nothing should surprise me."
"But it still does."
"Yes. It still does."
Bruno stared down into his drink, wondering where the conversation would go from here. He could see no secrets hiding behind the bubbles at the bottom of his glass.
"I'm sorry for my dark mood," said Belladonna.
Bruno shrugged and said, "Blame it on the season. Hallowe'en is supposed to inspire those sorts of black thoughts." He wondered where Jack had got to.
"There is the other side to humanity," suggested Belladonna. "The kind and heroic people that rescue the persecuted. Or those that try to warn potential victims of purges and possible oppression, even when it puts them at risk of the same treatment."
Bruno looked up and into Belladonna's eyes. He felt a growing certainty that this conversation wasn't just random small talk between strangers at a party. His mother had told him that others could recognise the witch mark, even though — as a man — he had no powers of his own.
"It's a shame that more people aren't like that," said Bruno. He leant over and took Belladonna's hand in his own. "And it is a shame that they can never be rewarded enough for their actions."
"A simple 'thank you' should be enough, I would think."
Bruno whispered, "Thank you. On behalf of my mother and her sisters, and my cousins."
He gave her fingers a gentle squeeze in gratitude. For just a second, Bruno thought her eyes glowed green, but it was probably just a reflection of the party lights.

About the Author
Lynne Lumsden Green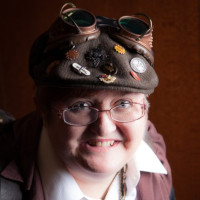 Lynne Lumsden Green lives in Queensland, Australia, though – in reality – she lives inside her head (it's cosy in there). She writes both fiction and nonfiction.
She has had stories and articles published by Queensland Writing magazine, DailySF, AntipodeanSF, Every Day Fiction, Aurealis magazine, and in over a dozen anthologies of fiction.
She wants her stories to live in her readers' heads.
You can find her blog at: <https://cogpunksteamscribe.wordpress.com/>.