By Paul Sheringham

I was wrong, I was wrong from the start.
you could die out here from a broken heart.
David McComb
Lonely Stretch, Born Sandy Devotional, The Triffids.
--
He'd taken a wrong turn seven miles back.
Hs last taste of civilisation was the "fuck off" yelled at him by a stoned inhabitant inside the Aboriginal co-op building on the main street of Muluna: a tiny town tipping over the precipice of an infinity of nowhere.
The road led to a long-abandoned farm and hanging shed — where he often retreated with his guitar and enough alcohol to become numb enough to forget; to submerge from reality.
The red dirt road looked well used for 30 kilometres. He followed small signs: the rusted car wreck a few miles in, the change from salt hardpans to dunes with toothpick multi-stemmed mallee. Every mallee, each saltbush and samphire claypan on this road he knew like familiar quiet sentinels. He drove it on autopilot.
A slight shiver of unease rolled up his spine, causing him to surface into his uncomfortable reality. Something had changed. This stretch, with the lowering sun before him, was disconcertingly unfamiliar.
He doubled back. The road took a slight turn and there was a left fork he hadn't spotted earlier. A kilometre in, the road narrowed until the sides of his 4wd were being scraped by broom bush, dense and crowding. He ran over small saplings growing in the ruts.
He turned the ute around after a thirty-point turn, hoping his radiator wouldn't be punctured by saplings. Fear sobered him; woke him into circling angry voices that descended like a veil of regret. How had he become lost on a road he knew so well?
Not a soul on this lonely stretch. You could die out here and never be found. Weeks before any local or traveller passed by, perhaps as lost as he was. Emptiness echoed with the uneasiness.
The fuel gauge had dipped below 3/4, still enough to get to the farm and back.
Still plenty of whisky and beer and iced-water warming in the boot. The Gretsch acoustic guitar propped up on the back seat.
***
He'd tried every substance under the blinding summer sun. They couldn't drown the paralysing thoughts that played out in his mind on high rotation as tawdry soap operas and courtroom dramas. Him on trial. His accusers dotting the gallery, fingers pointing out his every failure. Page-long suicide notes that no-one would read. Lyrics about lifeless flotsam tossed upon the beach. The best songs came out of fear and pain, little nuggets of truth from the white noise. It took a toll on his mind and body. Prozac had never led him to the truth.
His body was a vessel to create words and worlds describing his lack of a place in this cold universe. A number-one single was not his dream. That was the pressure record companies exerted and the fickle music press wrote about. His band was a failure. He dreamed of creating words, songs and art. To dig out the awful truth and beauty in words and lyrics. The banality of rock stardom was not his dream.
Then there was the book of poems hidden in his apartment "please publish if found". That was his dream — hell yes.
He veered through a bend, skidding on shards of red stone. A silhouetted figure stood by the roadside, her wavy long hair burning in the backlight. He fishtailed over a deep wheel rut, correcting the oversteer. When he looked again, she was gone.
***
The last blinding and confusing sideway rays of the sun flickered through dense roadside mallee. The black closing in, he pulled to the verge. The cold of the descending desert night seeped through the rusted car floor. Wind shrieked across the mallee scrub.
Her voice on the wind, "Why lover? Why did do it?"
He fingered the silver St Cristopher medal dangling low; her memory still burnt deep into his chest.
The voice of Mandy, Tash or Alice. All the names, the faces of strangers that blurred into none. The ones who got too close and wanted to ask about his past or had questions about future-plans. He had none — words, songs and art wouldn't pay the mortgage.
Women loved him, his intelligence, piercing blue eyes, his aloofness. His tall frame, long curly hair and baritone voice. He loved them too, but he loved the instant pleasure of a bender even more. He had no trouble starting relationships, but they always left him in the end, often bitterly. The lovers who had wanted to see something good in him, the ones that deserved the love he couldn't give them, when inside him seethed only an angry, dark pit of nihilism.
He slept lightly on the back seat, the rifle close to his side. Her sweet warmth beside him, her breath breezing softly down his arm. His arm reached out to touch her; found emptiness.
No one to dress him, feed him, drive him home. No lover to lie together with on the cool sand.
He dreamt of his parents, holidays down the coast. Estuary mud oozing between his toes, flies hovering over the scratches on his knees. The piercing summer sun always blinding, skin peeling off burnt shoulders. Trying to sleep in the dry heat on clean white bed sheets. Dreaming of her heat next to him, legs entwined.
Snatches of music came to him. Explosions of pedal steel guitar — a crescendo building like a wild dog howling in lust and pain, singing for flesh and retribution. Spare ringing of vibes. Jangling metal percussive notes sparking off shards of ironstone and the endless rusted lines of broken barb-wire fences.
He was woken in the dark by something moving out there in the dead heart, a nightmare, gigantic and loathsome. The nightmare he was running from, all the wrong turns he'd made. Nowhere to turn, except to face it. So far from home. How had he become so lost? He'd taken a wrong turn, and now there was no way back.
***
He'd slept through the dawn chorus of birds again. If there was a such a thing in this desolate place.
The back of his mouth was dry. Surfacing from sleep, coughing and dry retching on phlegm, he grabbed a bottle off the back seat and gulped the still-cool liquid down. The familiar numbing spread to his fingers and aching temples.
Suffocate the pain. Don't surface into reality.
He opened the car door and took a step or two.
The weight of his thoughts was like concrete boots. He fell to his knees and coughed up a wordless blind pain and rage. The red sand was soon wet with it.
He drove on. The road was flat, gun-barrel straight. Red sand plains with no distinguishing features in any direction.
The horizon quivered. A willy-willy traced a sand funnel across the plain.
Heat haze swirled ahead on the gravel, forming a metallic, oceanic mirage. Up ahead there was a change in the flat topography. The horizon shifted and melted. A wide outcropping range skittering with movement, spread out from east to west, horizon to horizon. Pulsing, emerging, spreading wings mountain ranges wide. Raging bush fire fronts kilometres long broke out atop birthing wings.
No escape forward, only fear turning back. He took one last swig from the whiskey bottle and threw it to the passenger side floor. He shifted the Falcon up into 4th and sped toward the loathsome entity, lining her up through a crack in the door.
A monstrous, ugly flaming bird, no way around it, under it, or over it; only straight through to the other side.
Fight not flight. His eyes filled with spite.
"Take me now, I'm not afraid to die," he shouted, the car engine screeching.
The ravens took a moment to look up from picking clean a festering kangaroo carcass to glare with cold, dark eyes at the madman screaming out the window of the rusted white ute headed towards oblivion.
He'd taken a wrong turn.

About the Author
Paul Sheringham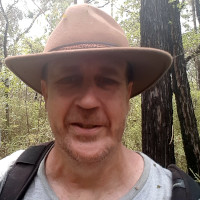 Paul Sheringham lives and works in Coffs Harbour, as a species project coordinator for several threatened plant species.
He has his renewed passion for field botany in recent times, a recent stroke having limited his ability to run marathons. He hopes to publish a flora field guide of the Gibraltar Range National Park.
A proficient bathroom guitarist and singer, he has been learning several Triffids songs, and learning about their brilliant lead singer David McComb, which has influenced his story "Wrong Turn."