By Brenda Anderson

1. To save centuries, for the trip itself we convert to inert. Xpres is painless and saves so much time. Other advantages include avoiding in-house movies and watching lots of boring space en route. Naturally, we revert for the Tour itself.
2. Sample collection is strongly encouraged. Storage canisters are supplied.
3. No posing in camo-collection suits. For the purposes of this Tour, we're all happy little positrons.
4. For those sampling Time Wine: get it right. Do you really want the untried, untested wines of tomorrow? No. Go back in time and the best awaits you. Simple.
5. Beware the monks of Galaxy Zed. We've paid their religious tax, which means they let us in for ten minutes to sample. Otherwise, you'll be forced to sign a declaration of intent to become a monk, training for which takes twenty of our years. Recommendation: look pious. (A 'how to' booklet is included.)
6. The Giant Cloud Cheeses of Galaxy #78 can be sampled, though there are difficulties. We activate a type of zeppelin, disguised as a cheese, and drift closer. Cheese samples adhere to our pointy end. Unfortunately, when we land, the natives want to interview us, which is best avoided. The swizzle sticks of Galaxy #78 have sharp tips and suspicious minds. One impalement has been recorded.

7. Warning concerning the so-called Cheese Geyser of Planet 89. Please read this carefully. Due to an unusual process of fermentation, the molten core builds up huge pressures which result in semi-regular explosions in the form of plumes, which shoot up many thousands of feet into the surrounding atmosphere. Planet 89 releases semi-liquid cheese, however, because of the pressure involved, the cheese — on being forced from the surface — gains a form of life, rather like a human baby, squeezed at birth, takes its first breath and cries. In other words, the cheese gains sentience. Shot into the air, it changes shape in a way that reflects its newfound sentience: sometimes it forms two outstretched arms, or a head which opens wide in what looks like an all-consuming scream, etc. This cheese phenomenon is arguably the highlight of our Wine and Cheese Tour.

However, we have to calculate a safe distance from which we can observe it. (A former Tour operator got too close, the cheese sentient — let's call it Cindy — reached out, grabbed hold of the rocket, smeared itself over the exterior and demanded sanctuary. After a horrifying exchange of opinions, the pilot accelerated at such a speed that Cindy flaked off and now floats, in the form of burnt cheese, in orbit round Planet 89. An incident we must never replicate.) Hence, we will remain a respectful distance from the Planet and agree that, sentient or not, no cheese extrusion has any claim on Planet Earth or its generosity in welcoming the homeless. Cindy and her sisters/brothers call Planet 89 home. Let's keep it that way.
8. Finally, the ultimate artisan cheese discovery! Planet Needle's sheep (yes, let's call them that) produce a particularly tempting cheese — semi-hard with crumbly interior — and its resemblance to a British cheese (Cornish Yarg) is so compelling that we've scoured Planet Needle's slopes and found an odd, astringent nettle which, when wrapped round the cheese, produces heavenly textures and aromas.
However, Planet Earth has strict bio-import laws. In this case, we cannot permit sample taking.

9. After returning from the Tour, regular wine and cheese may taste like cardboard. If you mess up your Xpres re-entry procedures, you'll be cardboard, too. Follow the instructions.
10. On successful re-entry, we recommend a good stiff drink. This we supply, free of charge.

About the Author
Brenda Anderson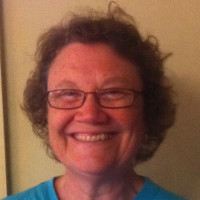 Brenda Anderson's fiction has appeared in various places including ASIM, Daily Science Fiction and Flash Fiction Online. She lives in Grange, SA, and tweets irregularly @CinnamonShops.