By Umiyuri Katsuyama - Translated by Toshiya Kamei

My grandmother used to tell me tales of a past long gone. My favorite one concerns my grandfather's return from his border deployment. I would beg Grandma to share her stories over and over again while nibbling at a peach by her side.
Back then, my grandmother was a rosy-cheeked country girl. She had spent the last two years working in the fields and growing silkworms while waiting for her husband's return. A few thousand miles away from his home, my grandfather stared at the dry horizon every single day. It took his unit twelve months to build a fort in a wasteland resembling the end of the world. Another year passed while he and his fellow soldiers guarded the fort. They were scheduled to go home in a year.
"Is there really an enemy out there?" When my grandfather wondered, an arrow darted toward him from an unseen enemy. If he were to cross swords with his opponent, he was sure he would be the first one to die. Back home, he had never killed anything bigger than a pig. A hoe was the only tool he had ever handled.
One day, my grandmother took a break and ate mulberry fruits, tinting her lips red. When she turned, she was startled to find her husband standing covered in dirt from head to toe.
"You still have one year left," she said, confused. "Desertion is punishable by death!"
My grandfather took a peach seed out of his pocket. It was big for a peach seed.
"This peach is sweet," he said. They were the first words she heard her husband say in two years. She was blushing and shy, but delighted. In spite of herself, she ran, hid, and cried.
My grandfather told her that peaches had fallen from the sky and landed like hailstones on the wasteland. Fortunately, no one got hurt, but the ground was strewn with damaged peaches, the juice oozing from them, a dulcet aroma wafting on the air. At first, he and his comrades were too stunned to do anything, but they eventually picked them up and gobbled them like starving urchins.
"What tasty peaches!" one soldier cried. "I've never tasted anything so heavenly!"
"Are they from the Queen Mother of the West's orchard in the Kunlun Mountains?" someone else wondered. "Ones that bear fruit every three thousand years?"
My grandfather and his comrades experienced an auspicious omen. They gathered the seeds and offered them to the emperor. As their reward, they were relieved from their military duties one year early.
The peach seed my grandfather brought back grew into a tree and now bears fruit every year. Everyone knows about the large, sweet peaches in our village.
I don't know how truthful my grandparents' story is, but our peaches taste sweet this year again.

About the Author
Umiyuri Katsuyama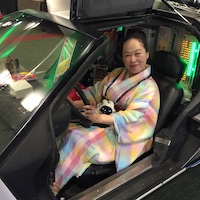 Umiyuri Katsuyama is a multiple-award-winning writer of fantasy and horror, often based on Asian folklore motifs.
A native of Iwate in the far north of Japan, she later moved to Tokyo and studied at Seisen University.
In 2011, she won the Japan Fantasy Novel Award with her novel Sazanami no kuni.
Her most recent novel, Chuushi, ayashii nabe to tabi wo suru, was published in 2018.
Her short fiction has appeared in numerous horror anthologies in Japan.
About the Translator
Toshiya Kamei
Toshiya Kamei holds an MFA in Literary Translation from the University of Arkansas.
His translations have appeared in venues such as Clarkesworld, The Magazine of Fantasy & Science Fiction, and World Literature Today.