By Conor Ross

While waiting for the train home, I spied Lady Guffry blow in — her frilly dress and curls alive, her orange hair a nest of snakes. She had the aspect of a banshee, which was thanks to this blustery weather, an aspect she whipped up and down the platform until she regarded Douglas Stone standing at the other end. She regarded him but said nothing. And though it was a cool breeze blowing, I somehow felt the temperature drop a few degrees more. Douglas, unaffected by the gusts, said nothing either. Strange, I thought, for Douglas Stone and Lady Guffry had both attended last night's bi-monthly gadmire-gathering by the superior-futurist society (as opposed to the recently renamed superior-superior-futurist society).
It was a wonderful night, where you crowded around various tables of illogical games and talked about topics usually reserved for Peruvian shaman rallies. No really, it's a gas. The ladies dance the aero-waltz attached to their warble-blimps while the men play magnetic croquet on the walls, which they strut up and down with their sticky boots. But I swear mine were planted on the ground when I saw Douglas Stone and Lady Guffry together. I know what you're thinking. How on God's brutiful brown earth did that happen? And how did I get into this party to begin with? And that's the thing, they let anyone in — even a kid like me, or a brickie like Douglas. So I snuck out when Mam went to sleep and they just opened up the door. See they think in the future everyone'll be equal no matter what, where, or how you are. "Like ants or flatworms," I said — which I knew cause we had learnt about them in school that week — but they didn't like when I said that. Anyway, I really did see them together, a lady and a brickie laughing, but that's not all that happened because just as I heard the train coming Lady Guffry marched over to Douglas and, violently, told him off for:
- being the biggest brute she's ever seen,
- cheating at four-dimensional chess,
- telling other guests that the chocolate fountain was an Amazonian mudbath recommended by dermatologists,
- overinflating a poor balloon animal, which began to howl in pain and then embarrassing it further when delighting in the flatulence sound it made when squeezing its rubber belly.
In his shoes I would have cowered but Douglas held fast, though he had begun to blush.
"And, and, and," she said, her orange hair reaching for the sky like a candle flame, "You put your hand around the waist of that blonde woman, who you said you had never seen before."
The train blew into the station and Douglas moved at last, reaching out to put his hand around the waist of Lady Guffry. But she turned and was gone with the wind.

About the Author
Conor Ross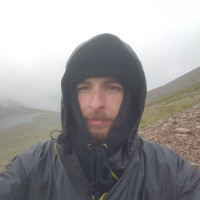 Conor Ross is a student and avid traveller.
He is either studying literature in Melbourne or else somewhere else on the planet teaching English as a second language.
A great fan of being useless he finds literature to be the most agreeable way of ignoring life.