By Eugen Bacon & Don E Harpe

'LAPIS LAZULI,' HE SAID. 'That my name.'
He was not of this world, never from Earth. Not with those eyes, no.
He sat next to me, chewing popcorn and laughing, laughing, laughing at the jokes of a stand-up artist at the gay pub. The comedian, who was doing a 'Who is this guy?' feature, was rolling on a new gig, a Bill Clinton impersonation that worked so well it warmed patrons with mirth on that night of howling storm and feral wind. The performance was funny, so funny it almost brought the house down. And the decidedly beautiful alien chap beside me laughed heartily along with the rest of the mob.
An alien? you quiz. Surely, but not what you may think.
He was not odious, not at all. His mouth was sensual, seductive. He was an insightful creature, I could tell, one to be handled with care if I decided to try and get any closer to him. He moved about in a playful way, secure in his mirth, comfortable with his surrounding, accepting it, not once questioning the patrons or the bar itself. I stopped looking at the black guy on the dais, as he impersonated poor Bill choking on a red-hot chilli pepper regurgitated by Lewinski in the heart of a kiss, and found myself admiring Lapis. Sure, his skin refracted light. It gave him this radiant hue that outshone anyone I'd ever seen. Sometimes in the deepest throes of laughter, he paled more, yet he did so without losing that radiance.
You wonder at my taste, my intention… But it is not customary for specimens of that ilk to show up in a pub, let alone a gay one. He was desirable; really, I just wanted to take him home.
When a Greek ambassador in the act nearly caught Bill with his pants down, and dear Lewinski crashed out of a window swinging on a curtain, Lapis turned a deep, dark blue with big, ivory veins.
An hour later, I asked him why he was still laughing, the comedy act was done.
'I not be laughing,' he choked. 'These be my tears. I am inversion, not the real me.'
'What inversion?' I said. 'How isn't this the real you?'
Turned out he'd been arrested for a trumped up charge, found guilty in a hastily convened court, sentenced to banishment from the land of Magnetroxis. His molecules had been refracted, turned him inside out. He no more resembled any of his kind. He had wandered the universe, floated alone, laughed when he should cry, craving his lazurite.
'What is your lazurite?' I quizzed, wanting and yet not wanting to know.

The half of his rib, he said, the mother of his unborn child.
'Alas!' I said. 'I thought you were gay?'
'Lapis Lazuli. That my name. Who be this Gay?'
'Never mind. But banished? Why?'
He turned upon me opaque eyes ingrained with gold, eyes so full of personal appeal I wanted to gather him to my chest, hold him until those eyes shone with dawn. 'General Adrastea,' he sobbed-cum-chuckled. 'Me feel no love, not love him back. I already get my lazurite, see.'
'But how did you get here? Earth?'
A clap of thunder, he said. It polarised his fragments to shape them into the form he was now. Having lost transportability, he flittered onto the seat he was sat upon, and it was I, his first Earth contact, who leaned forward to give him food.
'Popdibles,' he said.

'Popcorn,' I corrected. 'Tell me: what will become of her? Your lazurite?'
She shared his eternal fate. She would carry his little one in her womb until his punishment was complete, then, only then, could they once more be joined back home in Magnetroxis.
I stared in silence, run out of questions.

I did take him home. But not to surrender him to the comfort of my lips, so he might feel less lonely. I took him to my home in a fierce tug of impulse to warm him a glass of milk, to lace it with brandy and cover him with a blanket until he stopped laughing laughing…
Crying.

When the storm calmed, I took him out to the woods beneath a sky full of blackness where, without looking back, he leapt!

My hair madly billowed like a cloak in the consequent wind of his flight. I clasped my longing in tight palms. Pining ripped me inside out. I defied logic by needing him, but I did, and already I missed him. Lapis, dear Lazuli. I watched him open miles from me and then dissipate; dissolve into big and then smaller bubbles that floated the giant sky. The eaves of a big black cloud yawned to swallow them, dragged forlorn Lapis and the pieces of my heart to a world I could not inhabit, to a future without me. Took him back to intergalactic wilderness, to voices in the wind, where he would carry his wanderlust to the end of his banishment.

About The Authors
Eugen M. Bacon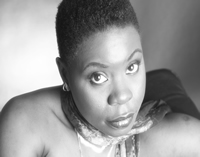 Eugen M. Bacon has published over 100 short stories and articles, and has a creative non-fiction book out with Palgrave McMillan in 2017. Her stories have won, been shortlisted, highly commended, commended and long-listed in the Copyright Agency Prize 2017, Fellowship of Australian Writers (FAW) National Literary Awards 2016, Alan Marshall Short Story Award 2016, Lightship Publishing (UK) international short story prize 2013 and Fish Short Story Prize 2013/14. Eugen's creative work has appeared in literary, science fiction and fantasy magazines and scholarly journals worldwide, including Award Winning Australian Writing, AntipodeanSF, Andromeda, Aurealis, Horrified Press anthologies, Meniscus, TEXT and through Routledge in New Writing.

E. Don Harpe
Award winning author, poet, and songwriter E. Don Harpe has had a varied career. From military service in the 60's to years spent as an industrial engineer for a major appliance firm, and more years in the Nashville music industry. Harpe has been a published and recorded songwriter for nearly 40 years, and continues to write new material almost every day. Harpe writes in many genres, and with 10 books and nearly 40 short stories now available, he is constantly working on his next idea. Harpe currently lives in the mountains of North Georgia with his wife of over 52 years, Helen, and their three dogs and two cats. He is working on his 12th novel, and spends his spare time with his children, grand children and great grand children.