By Alexy Dumenigo - Translated by Toshiya Kamei
I turned to writing because I grew weary of robot stories. My first story was about an old couple living in a cottage in the countryside. It was a mess, but I thought it great, and I sent it to a contest. Three AIs with quite different literary algorithms evaluated the manuscripts and decided, unanimously, that mine was the winner.
I had quite the success. For the first time in decades, a real-life writer won a contest where AIs were allowed to participate. I was on all the television networks and streaming platforms. I signed exclusive contracts. In the literary world, I was promoted as the vindicator of human interests.
It's no surprise that my work took that direction. Thus I churned out, one after another, books full of nostalgia and contempt for technology, completely devoid of robots or any device more sophisticated than a toaster.
I was on the bestseller lists for a long time. Then humans revolted against machines. Revisionist positions. Holy wars. Purges. I was accused of cowardice, and my work was jeered at for being escapist drivel failing to reflect the social conflicts of the moment. They burned my books in public squares. But the machines won and I was back on the shelves for another forty years.
However, I could no longer hide the fact that I was alive, stuck in middle age, thanks to prosthetics and nanobots. Nor that I used cybernetic implants to spin the plots of my bucolic novels. I lost a large portion of my human readers, but I was able to sustain myself thanks to the AIs, who bought my books for their databases and, with them, studied human psychology for commercial purposes.
Today, my editorial algorithms estimate that human interests will soon cease to be profitable. That I should evolve as an author and tell a robot story. I sit at the desk and dig my fingers into the terminal. I consider, doubt, second guess. In the end, I decide to tell my story.

About the Author
Alexy Dumenigo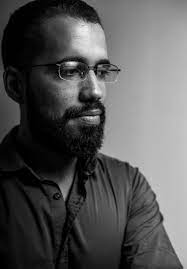 Alexy Dumenigo is a Cuban writer.
His debut story collection, Izokumi, won the 2019 Premio Calendario de Ciencia Ficción.
About the Translator
Toshiya Kamei
Toshiya Kamei holds an MFA in Literary Translation from the University of Arkansas.
His translations have appeared in venues such as Clarkesworld, The Magazine of Fantasy & Science Fiction, and World Literature Today.