By Umiyuri Katsuyama - Translated by Toshiya Kamei

From a crack in a rock 2,400 metres below sea level, you collect a metal object with a manipulator. Based on the thick, scaly coat that has formed around the object, you estimate it's less than 18,000 years old.
You hurry back to the research ship on the surface. As the object is exposed to air, the exterior begins to oxidise. When you remove the exterior with a knife, a titanium box appears. You touch the lid, and the box shakes.
"Welcome to Earth!" A singsong voice comes from a small speaker.
Before Earth became uninhabitable, humans reportedly scattered 2,775 small boxes containing their DNA samples. With your two long fingers and thumb, you open the box and find a few strands of hair, a postcard with hasty, sepia-toned scribbles, and a cumbersome ring inside a vacuum pack. They're not enough for cloning, but the sight of the ancient relics thrills you.
"Wasn't it like finding an Easter egg?" the box says, prompting you to look up the word in a dictionary.

About the Author
Umiyuri Katsuyama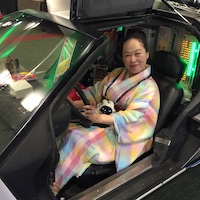 Umiyuri Katsuyama is a multiple-award-winning writer of fantasy and horror, often based on Asian folklore motifs.
A native of Iwate in the far north of Japan, she later moved to Tokyo and studied at Seisen University.
In 2011, she won the Japan Fantasy Novel Award with her novel Sazanami no kuni.
Her most recent novel, Chuushi, ayashii nabe to tabi wo suru, was published in 2018.
In 2022, her translation of S. Qiouyi Lu's short story "Mother Tongues" was a finalist for the Seiun Award. She is currently working on a novel about a female cook in Jiangnan during the Qin Dynasty.
Her short fiction has appeared in numerous horror anthologies in Japan.
About the Translator
Toshiya Kamei
Toshiya Kamei holds an MFA in Literary Translation from the University of Arkansas.
His translations have appeared in venues such as Clarkesworld, The Magazine of Fantasy & Science Fiction, and World Literature Today.