By Karen Andrews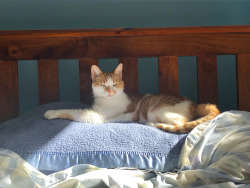 Dearest Clara,
As I mentioned over the phone, the cat's name is Madeleine. That's Mad-eh-line. She will not respond to any other pronunciation and must not be let outside under any circumstance.
I refresh her water twice a day. Some people buy those fancy water fountains, but that's an outrageous indulgence if you ask me. Look at Madeleine — she's got to be at least fifteen years old and is as nimble as she was when she arrived on the doorstep as a kitten with matted ginger fur and needle teeth. Her pewter bowl is perfectly acceptable. Now, food. I give her a bowl of kibbles morning and night. She ABSOLUTELY can NOT have wet meat, as we discovered when she escaped for that day.
All the fresh kill (three rats, one swallow and a GUINEA FOWL!) nearly sent her feral. She will meow to complain about her diet, but don't fall for any tricks. Her litter tray needs to be scooped and raked over hourly as it is. Leave it any longer than that and… well, it's best not to think about it. Just take my word for it. This is why I need you to be a live-in house sitter. Don't get too close to her either, lest you find yourself in my situation, needing specialist tests for a scratch that won't heal. Father also gives her a wide berth, which I think is the cause for her distemper for they used to be such firm friends. On the other hand, I suspect she revels in her position of command in the household.
Now I've gotten the most important details out of the way, let me thank you again for your agreeing to housesit for me while I am away on this necessary business that, unfortunately, cannot be delayed. Forgive the detailed nature of this letter; as it happens, writing it became as much for my benefit as I hope it is for yours. When one is so used to the patterns of daily life it is easy to forget how rigorous they can be. No wonder father watches me as close as he does. Even since I've sat down in the last half hour to write, I'm feeling this mystery illness quite keenly but will press on because I do not want you to worry about the situation you've landed in. I realise that might be a temptation once you see how many tips there are! However, you have a steady head, more insightful than my own, and I anticipate that you will need to reference these pieces of advice but once before committing them to memory. And if you do, I hope they help.
Feel free to watch the television! You might need to buy new batteries for the remote as I don't use it. It's hard to sit down and concentrate when litter duty is so taxing on my time, although I do enjoy those crime procedurals set in sleepy little towns such as ours.
You have your choice of any of the upstairs bedrooms. I recommend the front room as it has a nice view of the river. I haven't slept up there since I saw the ghost of my dead sister, Agnetha, in the hallway. It's just too upsetting. If you do happen to see her, just speak aloud that you are a friend of the house and she will stop trying to hand you the black bag she's carrying and then fade away. Although I won't lie, her crestfallen expression is heart wrenching.
Wi-Fi password: watchthecat (one word, all lower case, father won't let me change it).
Every bedroom has either a cricket bat or a golf stick tucked away in the closet. My mother used to say you never can be too careful, and I heartily agree.
Speaking of careful, father always stops in on his evening walk to see how I'm going. He has lived in the cottage at the back of the property since Agnetha died. It's hard for him to stay in this house too long. Bad memories. Mum's cancer, long ago, was easy in comparison. I daresay you've heard all sorts of gossip about him, but NONE of it is true. He's just an old man who's lived through tragedy and didn't come out the other side quite right. It could happen to any of us. Well, except me. I experienced the same familial loss and I'm perfectly normal.
When Madeleine swipes and growls at him — and she will — just give her a bop on the head and she'll swish off and hide somewhere.
I've tried to explain to father that you're young and won't want to be bothered with his company. He can lay on the charm when he wants, but if you see him coming and don't want to entertain just don't answer the door.
The spare house key is hanging on a hook underneath the tank stand that's closest to the family cemetery. Father knows it's there as well.
If you get a chance, I would be most appreciative if you could go through the desk in the library to see if you can find father's passport. I didn't know he even had one until he said that the passport, along with every other kind of identification, had gone missing around the time the police ransacked the place following Agnetha's death. Sorry, "executed a warrant". It's hard to know what went on because I wasn't living here at the time. I said that the identification, even if it had been taken, should have been returned as no charges were ultimately laid against him regarding what was quite clearly an accident. Besides, where do you want to be off travelling at your age? I asked. He didn't answer. Either he didn't hear me or he was too busy studying the way Madeleine, standing on her back legs on the sideboard, had hooked a claw over the latch of the front door with methodical, feline grace. Clever, corrupted cat.
You are most welcome to peruse the library shelves and read anything that takes your fancy — however, I would exercise extreme caution around the top-shelf titles. They are from my father's student days when he was interested in the odd combination of occultism and botany. I would get rid of them, but every time I try Madeleine jumps up and attacks me. That's how I got the scratch on my arm. It's like she's protecting them. Father reacted most curiously to my injury, grabbing my limb with a mingled expression of horror and relief. You have had a lucky escape, he whispered. But you must tend this wound with especial care.
Not wanting to stir up his emotions, I shrugged him off with a laugh. I'm sure a dab of iodine and a small bandage will do, I said.
No, I do not think that will be sufficient. He sucked his breath in through pursed lips. I shall speak to my university contemporaries.
For what possible reason? I said. Are any doctors? And even if they were, they'd be long retired.
They cannot, for evil doesn't rest, he said quietly.
Confused, I asked him to repeat himself.
They'd know best, he said in a louder tone, which was less perturbing, but I'm not convinced that was what he originally stated.
I must finally concede that I am outmatched here, he said. Curse my cowardly nature, for exposing my children to this — here he paused — force and not having strength enough to stop it.
Oh, it chills my spirit just thinking about how forlorn his face went. And as I am starting to feel faint, I will make my final thoughts.
The only number you need to memorise is for the local pizza place because they don't charge for delivery. The emergency services number is on the fridge if something goes wrong. But they don't rush out when you call. Take Agnetha. Having tripped and fallen, she laid at the bottom of the stairs long enough for her blood to have dried on the floor when the paramedics finally arrived. In that time Madeleine had tracked red, sticky footprints all over her face, nibbling at her nose and ears. Again, I insist: NO WET MEAT.
Speaking of those who are supposed to help us, the police did a terrible job investigating her death. I've mentioned their mislaid suspicions regarding father, but they ignored the evidence of the black duffel bag next to her body. Was someone here to rob the house and Agnetha disturbed them? If so, why would they leave it behind? And why use a bag that was stained with a tincture of strong catnip, unless it was to trap…
Bin collection is on Tuesdays.
Enjoy your time in my wonderful home.
Kindest regards,
Esme.

About the Author
Karen Andrews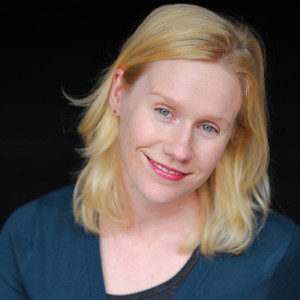 Karen Andrews is an award-winning writer, author, editor, poet and publisher. Her work has appeared in journals and publications throughout the country.
She has blogged at <www.karenandrews.com.au> since 2006 and is one of the most established and popular parenting/personal bloggers in the country.
She is a two-time finalist in the Best Australian Blog Awards. Her latest book is the Trust the Process: 101 Tips on Writing and Creativity. She can be found at <@KarenAndrewsAU>.