By Ben F. Blitzer
See, Charlie Feek left me standing there by the roadside, in the dark, to score some meth from a dealer he knew from prison, a primary school teacher. I'd shot a lot of heroin the night before and my mind wasn't quite right yet. I'm not sure if it ever will be, considering the terrible state of things. The world, I mean.
I staggered to the nearest bus stop in my vampire outfit, barefooted, sat down on the bench to pick the scabs on the back of both hands. All but one scab started to bleed again.
Charlie came riding back down Wyong Road on his BMX pushbike, telling me to shut the hell up. The tail of the bathrobe he had on flared out behind him. He wore nothing beneath it, not even a pair of jocks. "I could hear you screaming a block away," he said.
"Shit, I thought it was all in my head."
Charlie threw his pushbike to the footpath. He doubled over, holding his guts. "Damn," he said, "I'm bloody bleeding."
I laughed. "Charlie, call me crazy, but I think I'm stigmatic."
"I'm serious, mate." He sat down beside me, gasping. "Some dumbarse wearing a Frankenstein's monster costume stabbed me with a knife or something. I'm not sure what. Do you really believe in the Second Coming?"
"Shit, the same thing happened with Tad Lore a while back. I heard his dad's a goddamn monster, too."
"Who?"
"Man, don't you ever listen to me?"
I headed across the road to the Caltex to get him something to stem the blood flow, but I ended up inside Cellarbrations on Manning Road for a six-pack of Coronas to quench my thirst. I pulled my pistol out from the back of the waistband of my slacks, pointed it at the cashier's face.
"Hey, Frank," the cashier said, holding his hands up.
"Tad?"
"Nah, it's me." He gestured at his nametag on his shirt, eyes fixed on mine for the time being and not on the dark bore of my pistol's barrel. "It's Louis. Louis Angel. We once shared a cell at Hakea Prison, about two or three years ago." He looked at my outfit. "Neat fangs. Who are you supposed to be?"
"Nosferatu."
"Nos — what?"
A gang of tall black men, wearing dark clothing and balaclavas, came barging in through the store's entrance, wielding machetes, and hockey sticks, shouting: "Allahu Akbar!"
I wheeled around, taking aim at one of them with my pistol, but he simply took it from me, twisting it out of my hand. He shot at Louis with it, but missed. Louis ducked down behind the counter, screaming his head off.
I walked outside with a can of beer, and returned to the bus stop, but Charlie and his pushbike were gone. I checked Wyong Reserve for him in the pitch dark, blindingly stepping on fresh dog shit, dirty needles and broken pinecones. Someone sped down Pollock Street, squealing their tyres. Sirens wailed in the distance, petering off. A woman, in hysterics, cried out for help.
I made my way to my on-again-off-again girlfriend's one-bedroom unit, on Albany Highway, kicking an empty can of Coke against the kerb.
A mangy dog followed me part of the way, growling and snapping at my heels, as if I was something evil to it. I growled back at it, and it slinked away beneath a burnt-out car (a Tesla Model 3), tail between its legs.
Minutes later, I knocked on Gloria Herald's door. Burped. Waited. She wasn't home, so I gained entry by smashing in her kitchen window with a brick, only to see — now standing in what I thought was her bedroom doorway — an old man cowering in the corner beside his bedstand. He wore a rainbow beanie.
"Get out of here," he said, clutching rosary beads in his hand. "In the name of Jesus Christ, get out! Our Father, Who art in Heaven, hallowed…"
I roughed him up a bit, ransacked his unit, and stole some petty cash and a cache of Australian Army medals from beneath his bed, wrapped up in a bath towel. "Later, old man."
"In the name of Jesus —"
"Yeah, yeah."
I jumped the side fence, fumbled my way through a kid's playset, snagged my cape on a bougainvillea bush (tearing it in the process of freeing it), and eventually, after I defecated in someone's front yard, found Gloria's unit.
She wasn't home, having pressed the doorbell a few times. I jimmied her laundry window sash open, removed it, and crawled inside on my belly. The whole place reeked of hash and semen. Not so different from prison, really.
She sat at the kitchen table, replacing the batteries in her sister's pink vibrator. "Where the hell have you been?" she asked me. "Oh, my god, you're shaking."
"I… I…"
Gloria stood up, wearing black lingerie that stretched over her swollen belly, looking like Morticia Addams from The Addams Family. The crutch was missing. She slapped the side of my face with enough force to send my fangs flying across the kitchen. "Pull yourself together, Frank. Jesus Christ!"
"I… I…"
"It's Halloween."
The doorbell rang. "You expecting someone?" I asked her, rubbing my cheek and jaw. I tasted blood inside my mouth again.
"It's those damn bloody kids again, trick-or-treating."
I answered the door. A Charles Manson lookalike stood there, shirtless, but with a bleeding Bluetooth logo scratched between his crazed eyes instead of a swastika. He held a Voodoo doll in his hand. "What do you have there?" I asked him.
"What?"
"In your hand."
"What? This?"
"Yeah. That."
"It's you," he said, referring to the doll. "It's Nosferatu."
"No, it's not. I mean… no, I'm not."
"Dipshit." He laughed. "The hell you ain't him." He opened his mouth, screamed, and a thick cloud of gnats or small flies (I didn't care which, really) emerged from it. I slammed the door shut, backed away from it. Gloria was throwing her guts up in the kitchen sink, because of the pregnancy.
I headed into the bedroom. Her sister, Vicky, stood by the open window with a short, skinny Chinese man, almost in silhouette. Both were naked, holding each other. "Who the hell's that?" the man asked her.
Vicky shrugged her shoulders. "No one, Wang. Now, shut up, you fool, and kiss me. Kiss me, damn it!"
I crawled under the double bed, wriggled to the centre of it on my back, where images of demons and other strange, macabre creatures flashed — like strobe lights — before my mind's eye. I'd shot a lot of heroin the night before, and my mind wasn't quite right yet. I'm not sure if it ever will be, considering the terrible state of things. The world, I mean.

About the Author
Ben F. Blitzer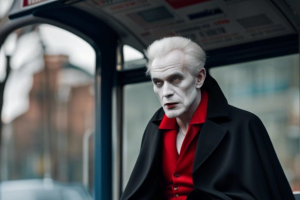 Ben F. Blitzer's story, 'Character Actor,' was longlisted in the Sydney Hammond Memorial Short Story Competition, 2021.
It was included in the anthology, Jump, from Hawkeye Publishing.
He lives in Western Australia.