By Elizabeth Broadbent
On a sooty block in a sooty city, trash catches in gutters — cigarette butts, candy wrappers, a daily newspaper nobody reads, not anymore. People stare at phones and avoid one another reflexively, automatically, stepping left or right in a sidewalk dance that seems as choreographed as any from Versailles. You pass a cafe. A woman sits at its window. You keep walking through the trash and soot, keep dancing your dance as cars idle and traffic lights change.
You never think of the woman again. You did not note her cashmere sweater, her carefully crossed ankles, her caramel hair, or her eyes blue enough to drown a sailor. You will never know that she was born on a dirty planet dying in a red star's light. Her superiors have moulded her so close to human that she is nearly human herself: doppelganger, avatar. They have sent her to Earth — a lowly assignment, she was hoping for better — to memorise, to examine, to spy. Every day, she drinks bitter coffee in cafes. She noted your careless gait. She saw your slanting shoulder and your wallet bulging in a back pocket.
She watches the next walker, and the next. In this city where every man becomes an island, she can watch casually, endlessly. Her superiors see through her beautiful blue eyes. You will continue on in ignorance, phone in your face, another email to answer. You will sleep, dreaming of fast cars and tearing out your mother's hair. They have bet on your blindness.
Perhaps she will watch you again one day.

About the Author
Elizabeth Broadbent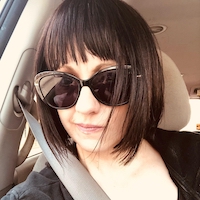 During her MFA in fiction, Elizabeth Broadbent was a top-ten finalist in William Faulkner-William Wisdom Award's novel-in-progress category; in the same year, her novella placed as a semifinalist.
After having children, she turned to nonfiction; her essays have appeared The Washington Post, Insider, and Time; a six-year staff writer for Scary Mommy, the largest parenting site on the web, Broadbent wrote about everything from chestfeeding to true crime. 
Her speculative prose poetry has appeared in Bewildering Stories and Down in the Dirt.