By Sayo Onoda, translated by Toshiya Kamei

Akari felt her blood boil.
After the wash, another sock was missing. Again. She had bought three pairs for 1000 yen, but now all she had left were three odd socks. An attrition rate of fifty percent. Total annihilation.
An early summer breeze swayed the curtains at her open windows, revealing a bright blue clear sky. But how could she feel carefree when faced with the annihilation of her socks? Akari picked up her mateless sock and sighed. "Am I being targeted?"
It wasn't uncommon to be robbed by a visitor from the future in this Anywhere Door age. All time travel was logged, though, so a thief's footsteps could be traced. As long as a victim reported an offense, a perp would be arrested in the future, and the stolen item would be returned. Because the authorities had regarded the time paradox as a problem since the introduction of Anywhere Doors, visitors were restricted to within a one-metre radius of the door, and if the time police determined that a past action would have a great impact on the future, the time machine would come to a halt within thirty seconds, and any necessary corrections would be made.
There was certainly no need to worry about time paradoxes. But the theft of trivial things that wouldn't impact on the future — they were numerous.
Akari sighed. That was it. Socks. Trivial. They didn't really matter to the future. It had to be the explanation. But what sort of deranged mind would want her socks? She'd understand if it was her underwear, but why her socks? And what was she supposed to do with mateless ones?
She didn't get it. She was angry and creeped out because it was just beyond her. Irritated, Akari returned to the bathroom with her mateless sock in her hand. She had to check the inside of the washing machine again, just in case.
"Seriously," she muttered, "time travel should be limited to public places, based on the size of the door! You can't have them come and go as they please. It's too risky. You have no idea what kind of people will be living here in the future."
When she opened the bathroom, the smell of mildew wafted out from the bathtub. The toilet was placed to the left of the fully automatic top-loading washing machine. On top of that, a shelf she had installed was cluttered with detergents and bathroom cleaning products. Akari flung open the lid of the washing machine.
"Huh?" Akari stood stunned.
Usually, when she opened the washing machine, she'd see the silver-colored tub inside. But all she saw was darkness, and a small, peculiar pool of white light deep within.
A stick came out of the pool of light. That confused Akari even more. No, it wasn't a stick. It was a hand, the size of a child's. The small hand rummaged through the bottom of the washing machine.
"Huh? Excuse me," said Akari.
Another hand appeared, followed by a small head peeking out of the pool of light. The head shook uneven pigtails, revealing a face. The girl had plump, pale cheeks and shiny black eyes. What was a young girl doing here?
"You stole my mom's socks!" the girl screamed, scrunching up her face.
Taken aback, Akari stood ready. The girl's shrill voice grated on her ear. In spite of herself, Akari felt guilty.
"They belong to Mom!" said the girl.
"Huh?"
"Give 'em back to me!"
"Uh..."
Who was this girl? Why was she in the washing machine? Had someone stolen her socks, too? Was she one of the victims? Should she peek into the washing machine like that in the first place? Wasn't it dangerous? So many questions floated in her head; for the time being Akari just blinked.
On second thought, it was easy to imagine how the girl appeared. She must have used an Anywhere Door without permission. Akari tried to calm herself. She needed to assess the situation. Even if she didn't do anything, this link with the girl would be severed in thirty seconds. It would be better not to talk to the girl at all. The young time-intruder didn't seem to be aware she was tampering with the past. She was certainly too young to realise doing so was unlawful. Her parents would be so surprised if they ever found out their time machine had been restricted because of this violation.
"Why do you eat socks?" the girl asked Akari. "You're not supposed to do that!"
"Excuse me? I'd never do that."
The girl frowned at Akari, eyes wide open. Akari instantly regretted responding to the girl.
"But Mom said..." Her voice trailed off. The girl lifted her chin and pouted.
Akari stepped forward and leaned over. "Listen, it's dangerous. Be careful..."
"But Mom said the washing machine ate the socks. It's true!" Her large black eyes were wet with tears. She held her mouth tight as if she were a heroine facing a monstrous kaiju, glaring at Akari. Obviously, the girl had put everything on the line in order to save her mother's socks.
Akari relented. She handed the girl the sock. "I'm sorry," she said. "I'm really sorry." Akari grinned. "It did look delicious."
"Don't you ever eat 'em again!"
"Okay."
"Never, ever. Understood?"
"Who are you talking to?" a voice behind the girl said. The girl's face lit up, and she moved swiftly. Without looking back, the girl went through the invisible door and disappeared into the pool of light.
"Socks!" was the last thing Akari heard the little girl's mother say. It sounded curiously like her own voice.
The pool of light faded away.

About the Author
Sayo Onoda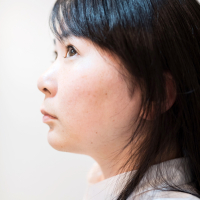 Born in Chiba in 1983, Sayo Onoda is a programmer, writer, and photographer.
Since she graduated from the University of Tokyo in 2009, she has worked as a software engineer.
In 2016, her novel was shortlisted for the Hayakawa SF Contest.
In 2019, her short story was runner-up in the Sogen SF Short Story Prize.
About the Translator
Toshiya Kamei
Toshiya Kamei holds an MFA in Literary Translation from the University of Arkansas.
His translations have appeared in venues such as Abyss & Apex, Cosmic Roots & Eldritch Shores, The Magazine of Fantasy & Science Fiction, Samovar, and Star*Line.