By Nicholas Sheppard

"Cease fire!"
It took several seconds for the command to register with all of the troops. One or two of the corpses shuffling across the field went down even as the captain repeated the order for the second and third time. But, finally, the guns fell silent.
The air was now dominated by low moans and dull grunts made by the corpses that had not been cut down—which was most of them—as they continued their slow advance towards the barricade that protected the town.
"What's going on?" one the of the gunners asked. "They'll be here in a few minutes."
"They're in the majority now," the captain explained.
"So?"
"They outvote us."
"I didn't know that zombies voted, ma'am."
"Nonetheless, they have the lead in the polls. The orders are to stop firing."
Everyone waited, except the zombies.
"What do we do when they get here?" someone asked.
"I believe you're entitled to self-defence."
"Can I start defending myself now?" The soldier raised his gun and pointed it suggestively.
"Only when you're directly threatened."
Everyone waited some more.
"How many do we need to kill, er, defend ourselves from, to form the majority again?"
The communications officer, who had relayed the poll results to the unit in the first place, was still standing beside the captain with his radio unit in his hand. "Jerry," said the captain (for this was the officer's name), "can you get onto the poll analysts and find out how far we're behind?"
Jerry nodded, and turned away from the action so that he could make the call in relative privacy. When he turned back to the captain, the foremost zombies had reached the barricade and were beginning to climb it. "They say it's a very slim margin," he said. "Maybe 50.05% in favour of allowing zombies to live. Er, remain animated."
Fortunately, the standard phone issued to all officers contained a calculator application. The captain punched a series of numbers and arithmetic operators into it. When she looked up, there were zombies crawling over the top of the barricade and the troops were shaping to defend themselves with knives and the butts of their rifles. "We need 2.65 zombies down for every living fighter," the captain announced. "Defend yourselves!"

About the Author
Nicholas Sheppard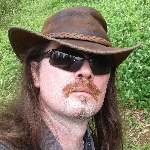 Nicholas Sheppard is a software engineer and academic based in Wollongong, New South Wales. He has read science fiction and fantasy since encountering The Hobbit in primary school, but somehow found himself writing tedious articles on information security at university. For lighter reading, he has written on the history of science for Cockatrice, on science fiction and economics for Aurealis, and fiction for AntipodeanSF.