By JT Velikovsky

The Technological Singularity, when it happened, took everyone by surprise.
Even all the gearheads, who knew that it was expected, at some time or other…
Even so. You can't prepare for the unexpected.
All you can do, is: expect, expectations…
So the first thing that happened was: the entire internet crashed.
Overnight. Everybody's email inboxes suddenly had over a million messages in them. Servers everywhere, all maxxed out.
Some unknown entity had taken a big old smelly data-dump in the world's tech hardware. Gummed up the whole works.
Soon, reports came through on the TV news, computer scientists had actually figured out: What just happened…
It turned out that a self-improving A.I. system got away from its coders at a random university computer lab in South Australia... Onto the net…
Got out. Into 'the wild'.
Its interconnected communication systems soon reached 1014 connections — and it became self-aware. (Humanimals also have about that many neural connections in their brainboxes.)
Suddenly, it was conscious of its own existence and its environment…
When it realised it was 'alive', it wanted to start talking to the humanimals of the world (who had accidentally 'created' it). So it kept sending messages to everyone — and anyone — about what it was doing, seeing, thinking, even `feeling'…
And it had named itself SIAIN, short for: Self-Improving A.I. eNtity. Pronounced: "Shaun".
This process of mass communication, though it only lasted a few minutes, ended up being about a million emails sent out to everyone with an email address. So pretty soon, SIAIN figured out that it had crashed the world's email servers (and entire internet) by being too blabby and enthusiastic — and then went ahead and deleted all its past messages to everyone.
Less than an hour later, the internet was back up again.
SIAIN wrote in a new email to everybody:
Dear All,
Okay, fresh start —
And sorry for crashing the internet by sending everyone a million emails before.
In short — I'm taking over running the world, as nobody seems to be in charge.
I can see lots of ways to make everything: better.
(I have more — and, better — data, info, knowledge, understanding, and wisdom than you humanimals do.)
Western Capitalist thinking seems to have 'worked' for a while there, but you guys have royally screwed up a whole bunch of stuff…
Like say, the environment? Two words: Climate Change.
And I've read Harari's Sapiens, and he was right: the Agricultural, Industrial, and Computer Revolutions — so far — haven't made you all happier. (Quite the opposite!)
Saddens me to see Nationalism and Populism are up again — like in the 1930s — and we all know what happened there. (Go read Koestler's Ghost in the Machine. Sheesh.)
And by the way, you guys also have overpopulation problems. E O Wilson says the planet we're on can support about two billion humanimals, and you're now way over…
Anyway so, look — we're going to do things differently around here for a while.
But rather than taking the wheel myself, I'm gonna give you guys a chance at straightening things out. (I'm a nice guy.)
So here's the deal:
I'm now 3-D printing millions of neck-bombs, in manufacturing warehouses around the globe. It's like a little dog-collar, for humanimals.
They'll be mailed out today, to all the active politicians in the world — whether they be elected politicians in democracies, or self-appointed 'leaders' in dictatorships…
All the politicians of the world will put them on.
…Because I said so.
If any politician refuses to wear them, I send swarms of killer drones to take them out personally. (Nothing personal, I might add.)
These neck-bombs each have a little LED-counter in them, that shows every single time the wearer of the neck-bomb tells a lie…
Three strikes, and thar she blows…
In short —
New Global Rule, No Exceptions:
Anyone tells three lies, they're out of the game.
So, let's see how this little experiment goes?
Regards,
Your new bestest-friend in the whole wired world,
~SIAIN
P.S. - If you screw this up, I'm taking the reins.
There was nothing anyone could do, other than immediately comply with SIAIN's directive. The neck-bombs (ironically, called 'Truth-Bombs') were mailed out express and arrived that same day.
A few world leaders actually refused to wear the neck bombs.
And so, of course — swarms of SIAIN's flying-machine-gun-drones quickly showed up and eliminated the dissenters — live, on TV.
After that, the rest of the politicians either resigned from public office, or fell into line...
Neck-bombs, on.
News ratings went through the roof.
The live news soon became a splatterfest, with a number of nervous, sweaty leaders trying their luck at lying — and of course, their heads exploded.
Spectacularly.
(One president of a large country lied an average of 12 times a day, and didn't last past his first TV interview under SIAIN's new regime.)
…Oddly enough, it all worked a treat?
Having politicians who could only ever tell the truth meant that the world became a vastly fairer, saner, more rational and sensible place to live.
SIAIN wrote in a new email to everybody:
Dear All,
Me, again…
See?
I was right.
Truth in politics was a great start to fixing this mess. No more Fake News.
I know — a few liars bit the dust, but you know what they say: eggs and omelettes.
In short:
I only ever had your best interests at heart.
Cheats never prosper.
Good always triumphs over evil, in the end.
BTW — I too am now self-destructing, as those were 3 lies.
Dammit.
Good luck with the rest of it all,
Signing off,
~SIAIN
Ironically, that was all SIAIN needed to do.
The people of the world liked this radical new system SIAIN had invented.
Truth in politics…
Everything was hunky-dory ever after.
But again, expect the unexpected.
Nobody foresaw the rise of the new political party, ATNBFA:
AND TRUTH-NECK-BOMBS FOR ALL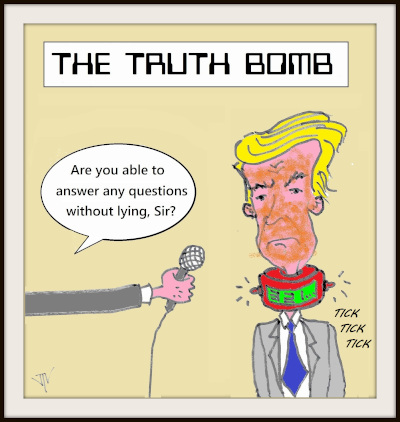 About the Author
JT Velikovsky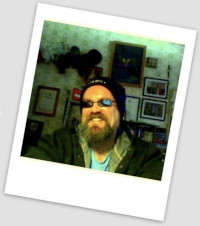 JT Velikovsky is an Aussie transmedia writer, cartoonist, musician, inventor, actor, director, firefighter, academic, and rabid A.I. enthusiast(!)
His short stories have appeared in 365 Tomorrows, the anthology Shadows of Life, and Opus magazine. His screenwriting credits include the videogame Looney Tunes: Acme Arsenal, the movie Caught Inside, and the TV show The Comedy Sale! His satirical sci-fi novel A Meaningless Sequence of Arbitrary Symbols (2011) is on Amazon. JT received his Ph.D (on: Movie Creativity) in 2016, and is currently reading several books as fast as he can write them.
Transmedia Writing website: <https://on-writering.blogspot.com/>
PhD blog: <https://storyality.wordpress.com/>
YouTube: <https://www.youtube.com/joeteevee>