By Darren Lipnicki
John lit a candle, the wick flaring brightly at first. He placed it on a low shelf, from where the now softer yellow light danced within the edges of a silver bowl on the floor below. He'd try to sleep soon, with plans to rise early and leave before dawn. A hiking backpack and duffel bag lay ready in his living room, the pack filled with purified water and supplies that he'd almost starved himself over two weeks to accumulate. Without these he would have little chance of surviving once outside the city. Officially declared a dangerous wasteland three years ago, it would be unsafe out there but very likely not as unsafe as staying here.
John was once an optimistic microbial engineer, believing that his work would help to reverse the environmental decline in time. His team had been focused on bacteriophages, developing and adapting these to neutralise toxic microbiota teeming in the city's effluent. Having become resistant to all treatment, this liquid detritus was being pumped further and further out — forming an ever-growing zone of polluted and unusable land.
But the government played to the solipsistic electorate with a myopic eye to the future, and the funding was withdrawn, the lab closed. Reading the changing climate well, John had flouted both his ethics and the law to squirrel away enough equipment and cultures to continue the work once his job was redundant.
In the absence of treatment and rehabilitation, the large loss of arable and grazing land threatened food security, and shortages were common. Queues outside the remaining and heavily secured shops and government ration stations were long, swollen by migrants from outer regions. Protests by those with sufficient outrage and calories were daily.
It was amidst this chaos and hunger that a nefarious black market for domestic animals arose. Rumours passed down the food lines, suggesting that the masked and armed gangs snatching pets were sanctioned, unofficially of course. It did indeed suit the government to have more mouths fed while other mouths needing to be fed were removed from the system.
It was at a point during this time that John's thoughts and motivation turned — he no longer wanted to save the world.
Now, in the dim flickering light of his apartment, he opened the duffel bag he'd lug along tomorrow, checking on the five plastic containers with four large strawberries each. Delicacies like this were now rare and dedicated home growers such as himself the only source of supply. These voluptuous red treats would be eagerly received and devoured by those at the food queues John met as he exited the city. His simulations indicated that the viral payload of a single berry would be more than enough to cause severe destruction of the gastrointestinal lining within forty-eight hours. With a high probability, death would soon follow, but only after copious diarrhoea and vomiting of blood, both fluids extremely infectious to family members, medical staff or hapless bystanders.
By the time the first person-to-person transmission occurred John would be well outside the city, another apostate among the sparse population of emaciated ferals shunning city life.
It was heinous that the government allowed and even facilitated the environmental collapse, but they really shouldn't have killed his dog.

About the Author
Darren Lipnicki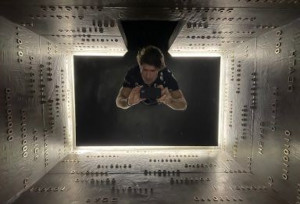 Darren's written output typically aligns with one of two arguably antipodean forms — scientific journal articles or dream reports, the latter more frequent and voluminous than the former.
Penning the occasional speculative mini-story lets him gambol between these textual poles.