By Eugen M. Bacon

First it was insects, lizards, rats … Ivy chopped their heads with razor-sharp objects, then graduated to chicks fallen from their nests. Then it was mice. Cats. Dogs. After the first teenage girl, the exciting calm to extreme hate that made a teenage boy easy also, graduated Ivy to a grown woman. Legs folded, curled into something tragic, the woman's dead eyes glittered like diamonds, blank as an ocean.
The hunt was foreplay.
Trolling for victims gave a kick. Sometimes she stalked them for days. Sometimes, she struck lucky and saw a face in the crowd. Sometimes Ivy followed them and broke a lock, snatched them from their homes while people slept in the next room. Sometimes it was the last boy on a tram, a drunken teen from a bash …
Method varied. Sometimes she strangled them, choked their breath inch by inch and forced skin open with bare hands. For the enjoyment of a blade and a spurt of blood, it had to be away — a place uninterrupted by the lone trill of a lost bird or headlights of young lovers. Even those sometimes, young lovers, she surprised. The beach worked best, especially for clean-up. Sometimes the forest with swaying leaves, breaking twigs and the green smell of first buds did just fine. Suddenly Ivy had a desire to kill her first grown male.
***
She found him at the end of the road, at the corner of Little Boulevard and Stellar Street. He was standing outside Saturn Inn. His eyes shouted interest.

"What are you, sixteen?" he said.
'Ivy,' she said. 'Ivy Freeman.'
He was visually pleasing: fine height, muscle and focus. His smile was bold. His eyes sought only pleasure.
She rubbed her hands. 'Take me somewhere.'
'Saturn…' he glanced at the inn. 'It has… rooms.' He licked his lip.
She felt her blade tucked against her thigh inside her stockings.
The inn's rowdiness exploded through the sleeves of closed doors. A shout of ribald laughter. Up to the room he hired, a worn velvet carpet stretched crimson.
***
She digested his youth, his magnificence in the play of lamplight. A careless fringe sprayed down one side of his forehead. She considered the blade — before or after play?
Just then he chuckled and, to her wonderment, his face fell. The rest of his body split open.
Inside was an ancient hag, shrivelled to half height.
'The skin,' her voice inside a voice. 'It fools.'
Before Ivy could think to react, the hag breathed a spell. Yellow smoke, reeked like a hog's ass. Ivy slumped limp onto the bed. She tried to move; limbs like lead.
'You'll feel everything,' murmured the hag. 'This is how my power comes — your immeasurable agony. It's called the paralymus spell.'
Ivy watched with unblinking eyes, motionless.
The hag poised a blinking blade right above Ivy's heart, and a quiet tear welled and rolled down Ivy's cheek.

About The Author
Eugen M. Bacon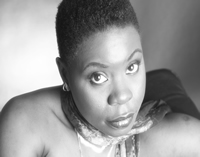 The artist sometimes known as Eugen Bacon is a non-android, full-blooded creature with two Masters Degrees and a Doctorate in Computing and Writing respectively. The said qualifications do not endear this artist to editors any more than other artists. With much grovelling, repeat submissions, threats and sometimes fierceness, the artist has managed to secure publications in literary, scholarly and speculative fiction journals or magazines worldwide. Her creative articles were nominated for the 2017 Aurealis Convenors Award For Excellence.