By Laurie Bell
I am the ship's guardian. The Rescue Voyager is a long haul vessel carrying the remaining population of my planet to safety. But the voyage is long. Thousands of years long. When we left the people were put into stasis and the ship's crew — the departure crew — managed take off and the difficult task of entering the minute course changes that were necessary to get us out of our home system and on our great journey.
The departure crew then shut all systems down, other than those needed to protect life onboard and to keep the ship performing within standard parameters then put themselves into stasis too. Before the final pod was sealed a lottery was drawn and one passenger — one out of hundreds of thousands — was awakened and entrusted with the ship's safety. The guardian is a life-long position. They are told the awakening codes should anything life threatening occur, otherwise, they are to live their life in solitude and silence, until age wearies them and they are forced to awaken the next guardian. Their final job is to hand over the awaken codes and explain the workings of the living pod complex to the next poor soul before succumbing to their final passing.
At least, that was what I was told when I was awakened.
I am guardian 974 and our journey is only a quarter over.
I remember a little of my life before.
I was a scientist once — a biologist actually. Married with two beautiful children who still sleep onboard this vast craft. I've been awakened for ten years now. The previous guardian explained the lottery and how my number had come up. I've long since come to terms with what my life has become, though I do not think I will ever accept my loss.
Or the boredom.
Every day is the same.
I wake in the living pod's bed and check that all of the systems are green lit. I eat — long storage nutrition bar — and then my day begins. My job, my only job, is to travel the length of the ship and ensure all life onboard slumber peacefully. Even with the speed walker it takes all day. I eat at the midpoint, another bar like thousands I have eaten before, and return to the living pod to produce my evening meal. This is different. It's a replicated shake mix. I write my simplistic, repetitious report that is identical to the one I wrote yesterday and go to sleep, for it all to begin again the following cycle.
The most dangerous time is in the thirty minutes before I fall asleep. That is when I allow myself to think.
I find I am having more and more odd thoughts and I wonder if it is the solitude or the silence that is to blame. I am lonely.
I know that my role is important.
By doing what I do I continue the great tradition of the guardians and allow my people to creep ever closer to the great awakening. A time I will not live to see.
To combat the silence, I have the computer in the living area set to shuffle through the great musical library that we carry with us and I dance like nobody is watching.
Ha.
As you can see, I also tell terrible jokes to keep myself entertained.
I've listened to so many audible books and plays and dramatic presentations that I can repeat them verbatim. I've read through the thousands of files that make up the great library. I've even written half a dozen books myself. Taught myself the flute and the guitar. I'm not great but by all means I am not terrible either. These days, my thoughts have turned inwards and I find my gaze lingers over the unlock codes more and more. To distract myself I scroll through the lottery list.
I thought about it once.
Awakening my husband.
But then, I would trap him in this non-life with me until our end, leaving our children alone when they are finally awakened sometime in the future.
I thought about choosing a stranger.
But I have no idea how that would go either.
Each day the temptation grows.
You see, once a pod has been opened it cannot be closed again.
I'd condemn anyone I wake to this same awful never-ending existence.
I have other thoughts.
Of leaving this life.
But how can I do that? I would condemn the entire ship to never awaken. To drift in space, alone and silent, forever.
My last resort is to enact the lottery and activate the next guardian. Every night I stare at the blue button as I drift off to sleep.
***
I open my eyes on my bedroom ceiling. A brand new day has begun. My gaze drifts to the emergency awaken button. I shake off my melancholy thoughts and push up off my bed to get dressed.
Perhaps I will remain in my pyjamas today.
Be a bit of a rebel.
After all. There is no one to see, and I can dance like nobody is watching.

About the Author
Laurie Bell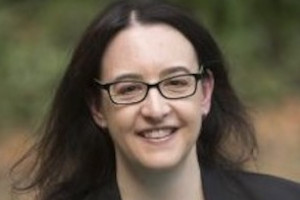 Laurie Bell lives in Melbourne, Australia and is the author of "The Stones of Power Series" via Wyvern's Peak Publishing: "The Butterfly Stone", "The Tiger's Eye" and "The Crow's Heart" (YA/Fantasy).
She is also the author of "White Fire" (Sci-Fi) and "The Good, the Bad and the Undecided" (a unique collection of short stories set during the events of White Fire/Sci-Fi). "Boss From Hell" is an Australian supernatural mystery, with a dash of comedy a hint of horror and a touch of romance. Her latest release is a darker Sci-Fi mystery coming out 20 July 2023 - "Blood Fever: A Daeh's Private Investigators Story".
You can read more of her work on her blog <solothefirst.wordpress.com>.
Look for her on Facebook: <www.facebook.com/WriterLaurieBell/> Twitter: <@LaurienotLori> and Instagram: <@writerlauriebell>