By Maks Sipowicz

This morning, when I went into the kitchen to make a pot of coffee, I noticed a mushroom growing out of the corner of one of the cabinets on which I'd painfully hit my head last night. I hit the cabinet hard, and right on the corner, and it cut into my skin resulting in a stream of blood going down my face. I looked like a character in a slasher, someone who'd already gone one or two rounds with a Jason Vorhees or a Leatherface. I remember being stunned at how much blood came out and how quickly it streamed down my face. I stared at myself in the bathroom mirror, neglecting to wipe the blood off, letting it pool in the sink where it slowly seeped down into the drain, its vivid crimson in stark contrast to the white porcelain. And now, a day later, a mushroom grew out of the cabinet in the exact spot from which I must have forgotten to wipe the blood.
The mushroom was red and pointy, its otherworldly tendrils reaching away from the laminate surface of the cabinet. It was covered in small bumps, which I was sure looked like the bump on my head from the night before. I moved closer to examine it. Its surface seemed to undulate gently. I didn't feel scared of it, though I thought that perhaps I should. Instinctively, I touched my scalp where the gash had scabbed over. It hurt, and still felt a bit wet from the blood, which left marks on my fingers. I wiped them on the cabinet around the mushroom, drawing a small circle. Let's see what happens, I thought, and I went on about my day.
At the office, I couldn't focus on anything beyond thinking of the mushroom. My wound still weeped blood, and every now and then I touched it gently with my fingertips and then drew small pentagrams on the furniture to wipe them clean. The pentagrams were only silly. Just because it was blood I thought it'd be funnier if it was an occult symbol. The pain of touching the bruise shot down my whole body each time. It felt both terrible and wonderful and delicious.
By mid-morning, I didn't pay attention to my job at all, I couldn't. It seemed that something else had become my work. I was compelled to mark my blood in more places. I felt particularly proud when I managed to mark the conference room table while Linda from accounting was going over her quarterly reports. They're so dull anyway, she could just email them around and then we could all ignore them in private, instead of sitting in a room ignoring them together. Linda has to know how we all feel, don't you think? Have you ever noticed how much of our time here is spent either humiliating or being humiliated? You should look into that. It seems pretty toxic to me.
I think someone must have noticed what I was doing in the meeting. Who was it? Can you tell me? I guess it doesn't matter now, since I figure I'm about to be fired. Let me finish my story before you respond. You'll want to hear it to the end.
As you already know, I didn't come back to my desk, I went to the toilet to email you to say I don't feel well and need to go home. You probably didn't see it yet, since you caught me on my way out. I tagged the toilet with my blood as well. You might want to note down. On the way over here, I managed to spread my blood onto Linda — when we were walking past I flicked a drop from my finger at her. I saw it landed on her leg. I also managed to tag your desk as soon as I sat down. You might have thought I was just supporting myself as I lowered into the chair, and I suppose I was, my body is feeling frail. You didn't notice the bloody marks on my fingers under your desk, though. I bet you didn't notice them when you shook my hand either — look it's already growing on your wrists. Don't be afraid, I don't know what it is either, the mushroom hasn't given me an explanation. Look at how wonderful it feels to have it coursing through your veins. It doesn't hurt, not in a painful way anyhow. Truth be told, I don't think we can be hurt any more.

About the Author
Maks Sipowicz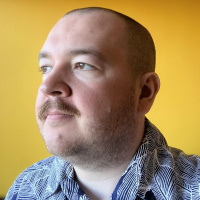 Maks Sipowicz is a writer living and working in Naarm (Melbourne).
His work has previously appeared in Overland, Sydney Review of Books, Meanjin, and elsewhere.
His website is <https://philosophyafterdark.com>.