By Kim Rose

Watching TV by myself. A typical Friday night. Typical of loners who prefer to lie around and think of the people they like rather than go out and do things with them. Yep. Alone — again — in a pile of washed … Sniff … no wait ... unwashed clothes. I don't have time for washing. Between staring at my crush at school and working part time to afford the flat, clearly I have no time to do anything else. Like clean the flat. How long have these corn chips been here?
I suppose I should introduce my crush.
You can probably tell he's far more interesting than me — just my opinion, anyhow. He's not tall. He's not dark. He's slender and pale and serious with deep golden brown eyes and brown red-dusted hair. He writes thoughtful poems and has interesting things to say about other people's writing which sound like compliments but are in fact insults. He is nicely built and dresses sharply. He has it all. No — correction — he does not have it all. He does not have me.
It's one of those he-could-have-me-if-he-asked-but-doesn't-think-to-ask kinda deals. Males are really ridiculous in this sense. Especially intellectual types. You can flirt and contort yourself and toss your hair (damn, that's a lot of muscle strain) and they don't even realise they are being hit on. Meanwhile, you are so afraid of being rejected by this perfect being that you can barely speak, let alone even suggest this delicate angel waste his time on you.
Intellectual doesn't necessarily mean smart, I guess. Knows everything except that there's a gorgeous woman ready to become a sex slave panting over his every word. I hear he and his mates are into conspiracy theories, so who knows really? Is intelligence linked to prowess with the opposite sex? Surely someone's done a study. I'll have to search YouTube.
Before I can bother to switch the cords so the TV picks up internet instead of free-to-air, a tanned supermodel takes the screen. Really? Photoshopped to hell like that? I didn't think ads like this were allowed anymore. Isn't it considered like subliminal advertising, or brainwashing, or at the very least dishonest? No body looks like that.
"True, Lillian," the model grins at me, "No one on Earth looks like this."
I stare stupidly at the screen, my hand on automatic ferrying corn chips into my mouth. Awkward. I chew slowly. The comforting gritty texture soothes me. Did the TV just talk to me?
"Yes, Lillian," the model speaks again, facing me, peering through the screen like she is face-timing. Maybe she is. Did I put the internet on and forget?
"No," says the model. "I'm actually on broadcast TV. So few people watch it these days that other dimensions have started advertising here. You never know, you might find something you need. I'm targeting you because you are a member of the galactic federation."
That does it. I crack up. My guffaw spews corn chips outwards onto the screen and sprays wet crumbs all over my unwashed clothes. Lucky. If I had been breathing in, it's a certainty — I would have choked to death. As it is I hack up tiny bits of chip while I fumble for a drink bottle …
Ha! Found one. Generic brand orange fizzy drink, warm. I swallow it down.
Recovering, I address the freak in the TV. "I don't know what's going on here," I say with all the good humour I can manage, "But I think I might be hallucinating. Maybe a friend of mine dropped shrooms in this bag. I just don't know. There's no such thing as a galactic federation. And if there was I would not be in it. Kindly go away so I can think about my crush, please."
"But I'm here about Mark."
"Oh, you know his name?"
"We do."
"Is he a member of the galactic federation too?"
"No dear," the model smiles, "Did you know that crisps and other junk food can lodge in your teeth, giving you bad breath?"
I give the scattered corn chips an uncertain look. Can she smell my breath from there? Now I'm worried I might have corn chip breath forever. I put the bag down.
"Well," she grins reassuringly, "Now you don't have to worry anymore!"
Hurrah! I pick up the corn chips and take a big handful, stuffing them into my mouth and washing them down with orange soda.
"Lillian." She looks cross with me. The imaginary person on my TV in my hallucination is cross with me. A new record of mental aversion.
"What?" I mumble.
"It's still an ad, you know? Even though we need you to get this thing so you can go get Mark, there are still rules. If it's not an ad, it wont play here at this time."
"Go get Mark!" I yell. Oh no. What will my poor neighbours think? "Why didn't you say this before," I say, "What do you mean 'GO GET MARK'?"
"Yes dear. We want you to start a relationship with Mark. We want you to tell us everything he is working on … all his poetry. It's a secret universal code and it's your duty to get it for us."
"Go get Mark? This thing is going to let me have sex with Mark?"
"Yes. We believe this hormonal compound is perfectly aligned to stimulate his pheromones. He won't be able to resist you."
"HOW DO I GET IT?" I scream, leaping up on the lounge and jumping up and down on my dirty laundry. Corn chips literally rain over the room, but what do I care? It's only the crumbs that are impossible to grab and get into my mouth.
The model waves her hand at a flashing phone number at the bottom of the screen. She pulls out a small green bottle and sprays one pump into her mouth. "Remember to use strictly as directed," she says. "One pump of Mintfresh is enough to kill all those bad odours and bring that special someone in for a kiss! Just call this number to order and your package will be in the letterbox in a few hours."
I burrow through the washing to find my phone. I pound the number into the screen and yell at the person on the other end. Thankfully, they indulge me.
I sit on the couch watching the ads flow by. I don't see any more inter-dimensional ones. I think. I don't recognise any of the shows, either. Maybe everything is advertising.
After a few hours I run downstairs to check the letterbox, unable to contain myself any longer.
Small parcel! I rip it open. One tiny green bottle.
Mark will be at the coffee shop, so I run. By the time I get there, I am patchy with sweat. Mark is at an outside table with his friend Xavier. That's the guy with the conspiracy theories. Flat Earth, fluoride spraying, government lies. I honestly think Mark is too smart to be taken in by that crap. There is nothing real in that junk.
I saunter up to the table, pump one shot of Mintfresh onto my tongue — tastes like peppery sage — and lean over into Mark's face.
"So, honey," I say calmly, "Notice anything different about me?"
Mark looks up slowly. "Hello, Lillian." His eyes are so brown, so soft, so deep. His skin so sweet. I can't stand it. Why isn't he declaring his love for me? Or tearing my clothes off? Something?
Xavier stands, a sudden abrupt movement, scraping chair legs on bricks. "Got to go man, I'll let you sort this. Catch up later."
He strides off. Mark waves, then gestures to the seat. "Sit down, Lillian."
I sit, giving him my cutest eyes. Here it comes.
He takes a deep breath. "I know you like me, — " he starts to say.
"That makes things so much easier!" I exclaim, reaching for him.
He pulls back. "Lillian, I know you're in the galactic federation. I know you're a sleeper spy, and you're trying to get my universal codes. I'm sorry but this can't happen."
He stands, leans over the table and glares into my eyes. "We know everything," he whispers before striding away.
I am worse than speechless, hoarsely mute, watching dark winter clouds gather over the park.

About The Author
Kim Rose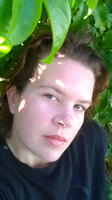 I am an aspiring Australian writer living on a small farm in central west NSW. We run a small animal rescue centre called 'Crescent Moon Lodge and Halfway House' and I self publish books on Amazon about our rescued animals. Our farm and our star attraction — Regina Gina the evil duck queen — have their own Facebook pages for fans. I have a passion for sci fi and fantasy and have a great deal of ideas I'm looking forward to exploring. Thanks for reading!