By Markus J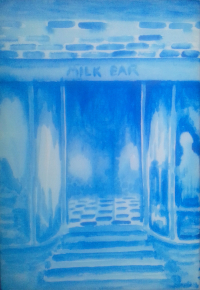 'We'll be right with you in a second,' said a female voice from the shop's darkened backroom as Julius made his way towards the fridge. He shivered as he walked. It was cold in this shop despite the warm weather outside.
'Hon, can you get that customer?' continued the voice, 'I'm back here making the Christmas puddings.'
Milk in hand, Julius walk across the black and white chequered floor leading to the counter where a middle-aged, greying man now stood. Julius noticed his face bore a tired and worried look.
'Just the milk then?'
'No… a cappuccino too, thanks. I'll just sit over there,' Julius said, rubbed his cold hands together, and pointed to a round, wooden corner table. He added, 'Why don't you make yourself one and join me. You look as if you could do with a break.'
'Thanks, stranger, don't mind if I do. I'm Tom.'
'Julius.'
Tom soon brought two steaming cups of coffee over, slid one over to Julius, sat down, took a sip from his cup and said, 'ahh I needed that..'
'Me too,' said Julius, cradling the coffee cup to warm his hands.
Tom said, 'My wife and I have owned this shop for years but haven't seen you before.'
'I do a lot of walking, but I've never come this way before. It's good to finally meet you.'
Tom gave an uneasy laugh. 'It's nice that someone like you takes the time to talk to a perfect stranger these days,' he said, 'Everyone today just seems to be too busy to take the time out to be polite. If they only knew how short life can be, how quickly life can change. In a blink of an eye it can all be gone. To them I'm just a cog in a transaction wheel. So many nowadays don't even make eye contact because they are too busy to look up from their phones.'
Julius nodded. 'I agree with your opinions of the people of today. They are far too busy to enjoy the simple things in life, like the walk I took today. You get to breathe the air, relax and enjoy the sunshine. Today's generation have so many artificial distractions. They just need to stop and take a relaxing breath. It really annoys me too when I see someone being antisocial because of some piece of technology, so I can't imagine how you must feel having to deal with this level of rudeness on a daily basis.'
'Yeah, you could say my situation is hard to take sometimes,' Tom said. while brushing his hair back with this hands.
Julius nodded. 'Another coffee?' he asked.
Tom nodded. 'Why not.'
Like old friends, the pair settled into an easy conversation for what seemed like hours until Julius eventually glanced at his watch. 'Is that the time?' he said, 'I must be going. My wife will be wondering where I am. She'll be thinking I've run off and joined a cult and I'm in the middle of a meditating chant or something.'
'Please don't be a stranger,' Tom said with a note of despair. 'Not too many customers these days take the time to strike up a conversation.'
'I will pass this way again,' Julius said while standing up. 'I won't be a stranger. Don't worry, I'll always find the time to talk.'
***
Eventually, Julius arrived back at his cosy suburban home. He ambled up the path leading to his door. The stony path wound past petunias, past roses. He stepped over his pet German shepherd laying across the path sleeping quietly, opened the red door of his ordinary house in an ordinary suburb filled with ordinary people, stepped inside, took off his cap and jacket, and called along the empty hallway, 'Dars I'm home.'
'Just in time, dinner is ready to be served,' said his wife, 'where did you get that milk from?'
'Milk bar. Now where was it again?...oh, that's right, at the Seaview shopping centre.'
'Really? That place has been closed for years, ever since that explosion killed the owners...'

About the Author
Markus J
Markus J writes about himself:
I reside in a coastal town on the southwest coast of Victoria. I write mostly short stories and poetry and find it perfect way to express myself. I write as a hobby and attend a couple of local writing groups.I  have found with attending these groups that I have learnt so much and have gained valuable knowledge from more experienced writers. This experience has also given me the confidence to pursue my passion more vigorously.
My passion for writing started back during my school years and then it continued on until my early twenties. It was at that point that life building a career and raising a family took all of my energy and time. It was during this period of my life that writing took a back seat. That hiatus lasted for over thirty years.
About nine years ago, when my life took a serious turn, I revisited writing — especially poetry — as a way to release the frustrations that I was feeling at the time. Now that I have reached the middle age of my life, I have that extra time I need to be able to devote myself to writing.