By Edwina Harvey

The Hitch-hikers Guide to the Galaxy appeared as a radio play (broadcast in Australia by the ABC) around the time I was becoming a fledgling adult. Uniting two of my passions: science fiction and humour, I thought it was the best thing since sliced bread. When I discovered the novelisation I devoured it then passed it around to friends with the zeal of a religious convert, desperate for people to speak the language of towels, hoopy froods and Pan Galactic Gargle Blasters.
The word "stalker" hadn't entered the general vernacular, but I was a fan, and courtesy of co-operative work colleagues and flexi-time, I was able to get to a number of Australian book signings by Douglas Adams. In 1985 I even managed to get to one of his book signings at Forbidden Planet in London prior to attending a Hitch Hikers Guide convention in Birmingham run by the international fanclub, ZZ9 Plural Z Alpha.
Did I engage in stunning repartee with Adams at any of these meetings? Did he remember me from one signing to the next? Sadly, no. Usually I just mumbled "Thank you," though to my chagrin I did manage to say "You're very tall," once; a fact I'm sure he was well aware of. The closest I actually got to conversing with Douglas Adams was via several letters (that thing we did before emails were invented,) when I was active with and acting on behalf of the Hitchers Club of Australia. Passionate about protecting wildlife, his animal conservation book, "Last Chance to See", was in its early planning stages and Adams was seriously considering trying to find a live Tasmanian Tiger. That plan was later dropped as the focus of the book shifted to endangered species not yet considered extinct.
In November 1990, as Douglas Adams toured Australia promoting the release of his book, "Last Chance to See", co-authored with Mark Carwardine, I scored a hattrick, getting my copy of this new book signed by Douglas Adams at Galaxy Bookshop in Sydney, before attending a literary dinner at the Ballroom of the Queen Victoria Building, where as guest speaker, Adams seemed much more comfortable speaking to a receptive audience, entertaining them with funny stories (he'd been a member of the Cambridge Footlights after all) than signing books to strangers, which seemed to have become a bit of a chore to him as his fame increased. About a week later I attended a literary luncheon in Melbourne where he again had the audience in stitches while promoting "Last Chance to See". Ironically, it would be the last time I saw my favourite author alive.
In a radio interview with Richard Fidler in 2014, Audrey Niffenegger, author of The Time Traveller's Wife, mentioned she'd been a volunteer guide for Highgate Cemetery, where many came to visit the gravestones of celebrities, including Douglas Adams. I squirreled this interesting piece of trivia away with no expectation of revisiting England.
The World Science Fiction Convention being held in Dublin in August 2019 presented me with an opportunity. England was 'just next door', what if I extended my holiday a bit?
It was a sunny Sunday morning when I made my way to Highgate Cemetery, paid my £4 admission, (the cemetery was under threat of being sold and redeveloped into high-rise apartment blocks in the 1970s before being purchased by the Friends of Highgate Cemetery Trust) and asked for directions to Douglas Adams's grave site. I was told I wasn't the first to seek him out that day. So I wasn't a lone pilgrim? I wondered if my counterpart had travelled as far as I had to pay their respects.
Adams's gravestone is not far from the cemetery entrance; a little way off the main walk and up an incline, the barely discernible pathway snagged with tree roots. A sign with '42', no doubt left as a mark of respect by another fan, shone like a beacon and led me to the unassuming gravestone. I found no trace of the towel I'd read someone had left there. I assume it's rotted away over the years. But the large ceramic pot I'd heard about, crowded with biros, was there. I'd brought a pen of my own especially, and found a place for it amongst the others. Then I retreated to a nearby bench to reflect on my youth, and the excitement the Hitch hikers Guide had given me. I'd spent a weekend travelling between Sydney and Brisbane by coach (a bum-numbing 16 hrs each way) to see the La Boite Theatre's production of the Guide stage play (the first Australian production I think); I snuck into ABC TV studios one New Year's Eve because a friend of a friend had access to the Hitch Hikers Guide to the Galaxy TV series months before it was shown in Australia; I'd met other Guide fans from all around the world, many still my friends today. I was an active part of an amazing phenomena that ended up with more arms than a spiral galaxy as Adams's Hitch hikers Guide evolved into various formats including records, theatre, books, computer-game and eventually a film. I didn't even know I'd stuck my thumb out, but I'd been taken on a marvellous ride!
Time stopped for Adams when he was 49 years old, while the years kept passing by for me with the same whooshing sound he claimed deadlines made as they passed him by. I was older than him now. How ever did that happen? But here I was, having travelled half way around the world, to pay my respects to someone who unknowingly had been such an influence on my life, and the lives of countless others.
His gravestone was so unassuming, simply announcing to eternity: Douglas Adams - Writer – 1952 – 2001. It didn't even begin to do him justice. Yes, he'd been a writer, but he'd been so much more than that.

About the Author
Edwina Harvey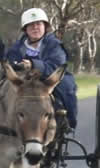 Pretty much a life-long fan of speculative fiction, Edwina Harvey is a writer, editor, silk painter and ceramic artist.
Her short stories and articles have appeared in a variety of publications including Aurealis, Antipodean SF, Grass Roots, Harbinger, Magpies, Strange Pleasures #3 and Worlds Next Door.
She has had three books, The Whale's Tale, The Back of the Back of Beyond, and An Eclectic Collection of Stuff and Things and a novelette, Never Forget, published through Peggy Bright Books. <www.peggybrightbooks.com>.
 Edwina received her editing qualifications in 2012 and now works as a freelance editor, specialising in speculative fiction.