By Fulvio Gatti

The energy stream flickers as Green's attention is requested above ninety percent in the Parlour. That's something they usually won't agree to do — too many fascinating phenomenons going on in the universe in a single unit, too much to observe and study — but the call had a bossy edge and they could recognise Blue's stamp even inside a super flare.
Transfer needs no time, but Green makes it slightly longer through a continuum trick. It lets their available ten percent split into further ten parts, each one checking how the primordial soup is evolving in a different solar system. They'll probably lose their bet against Orange about how the star will turn out, but the latest chemical developments are promising.
"It's a shame," Red is saying in the Parlour. "The implications are shattering."
The tension is huge. Any chance they are aware about what Green is working on in the cuspid binary system?
"You mean, you already figured out millions of potential outcomes and can't make sense of any of them, right?" The one teasing is Yellow, unusually cranky.
"Siblings, siblings, please," Blue says, their waves purposefully soothing. "Our task here, in the dramatic majority of our focuses, is to first prove that what Violet is accused of factually happened."
Realising it's Violet they are concerned about, Green lets their conscience explore the Parlour, a fascinating concept. Its main purpose is having all the spectrum visible and enhanced to make apparent everybody's intentions. That, before everybody learned to haze.
The other smart feature is that the Parlour only manifests itself if all of the six Aspects share the same slice of continuum, doing it in good will. So, Violet is there with them, even if their presence is translucent and hard to fully grasp.
"Why don't you ask them?" Green suggests.
The Parlour fizzles, reminding Green about some old standard civilisation stories about adults being upset from a younger individual's behaviour. It does it twice, in fact, as the Parlour also favours cognitive loops.
"My offspring's suggestion is relevant," Blue says. "I suggest we inquiry Violet directly."
"If they weren't my offspring, also, I doubt they'd go so far," Yellow points out, a light shade of benevolence aiming at Green.
"Come on! You're implying it only because you, instead, are not involved in the existence of Violet," Red says.
Orange is quiet, but according to its yellowshift has a favourite side in the argument.
"Which," Blue intervenes, soothing once more, "makes me the best candidate to inquiry Violet about the hideous deed you've been reporting so strongly."
All energy in the Parlour grows stable in a snap, something as unique as the big bang itself.
"Violet, please," Blue begins, tiny ripples in the waves betraying a remote uncertainty. "Can you bring your focus close to ninety percent and join us in the conversation?"
The translucent shape gives no sign of having received the message.
"Offspring, can you do something about it?" Yellow asks Orange.
Orange glimmers bright, dark, and then bright again.
Some cycles later, Violet bursts into life.
"Hey! Can I help you?"
The apparent joyfulness bounces against an almost solid wall of concern.
"Violet, thank you for granting us your highest focus," Blue begins. "We need to ask you a question."
"Is it about the cuspid binary system?" Violet asks. "In that case, it's not my operations you're interested in, but Green's."
Green prays that his hazing will distract enough of the other's attention to find a way out. It takes a full unit to realise nobody is bothering about them.
"Please, don't toy with us," Blue says to Violet. "Let us ask the question first."
Orange flickers in excitement and Yellow gives them an energy-equivalent of a glare.
"Did you — mix?" Blue asks.
Expectation wraps all over the Parlour like a glowing web.
"I don't understand the question," Violet replies.
"Of course you don't," Red bursts out. "Denying comprehension is the only way to pretend you didn't do it."
The network allows Red to broadcast. Among other shades, a Violet-that-isn't-Violet visually screams.
"What's this, offspring?" Red asks.
Tiny spots flourish over Violet's presence and disappear.
"It's Purple," Violet says.
If the Parlour had just been twisted, ripped into pieces and recomposed, the effect wouldn't be as shocking.
"I — just completed a full spectrum analysis," Yellow says.
"Go on," Red adds.
"I see a blue component in the mix."
With a surprised flicker, Blue gets all the focus.
"It's not how it looks," Blue says. The peaks of the sinusoid are higher than usual. "It's my offspring after all we're talking about."
"And mine, for what matters," Red says. "But I wouldn't even dare conceive such an aberration."
"You disgust me," Yellow adds. "I don't even know why I'm still sharing the Parlour with you."
"What I'm trying to say," Blue wave gains intensity, "is that whatever and however this mix happened, it did without my involvement, or remote awareness!"
"Like your own slice of the spectrum wasn't your responsibility!" Red points out.
"You don't think we will simply accept this?" Yellow wonders.
The Parlour grows into a noisy kaleidoscope. It's entertaining, at first. Then, Green decides to switch to the cuspid binary system.
A much better surprise awaits.
At first, Green's perceptions can't understand what is happening on the surface of the third planet. The previous data assists them with context, all the failed experiments behind lighting the fire of their excitement.
There are cells, and tissues, and task-oriented living components.
Green shuffles themselves into the lying, inanimate body. Neural connections snap into position while aeons of study help them fixing all that's yet to invent.
Taking the first step as a corporeal being is exhilarating.

About the Author
Fulvio Gatti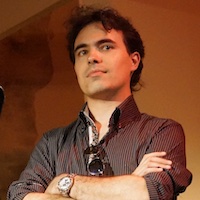 Fulvio Gatti is an Italian speculative fiction writer been writing and publishing in his native tongue for 25 years.
He has been writing in English for the global market since 2018, and his stories can be found in pro magazines, like Galaxy's Edge, magazines and anthologies published in US, UK, Italy, and Australia.
He's been a student of Kevin J. Anderson and Rebecca Moesta's Superstars Writing Seminars and he is part of David Farland's Apex Writing Group. He's also been a panelist at Worlcon/Discon III, among other international events.
He lives with his wife on the wine hills of the Northwestern Italy, where he works as a local reporter and event organizer.
Website: <https://www.fulviogatti.it>