By Zebuline Carter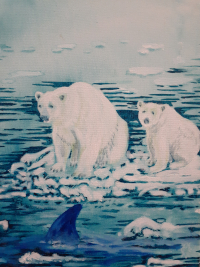 After twenty minutes of non-stop babble, a horrific never-ending stream of unconsciousness gushing from my mother-in-law, my inner-dam was cracking. Let me be clear: I make no claims to sainthood, and I'm very much aware that my reaction was due to my own shortcomings, not my mother-in-law's.
What is it they say about fools and arguments?
I paused at the kitchen sink, herded my nerves while I carefully wrung out the 'ready wipe.
Sooner or later, she'd have to stop and breathe. In the meantime, I marvelled at my wife's ability to sit serenely at the kitchen table, nodding or shaking her head at the appropriate times, and yet completely unaffected by it all. I knew that if I were to ask her later what her mother had said, the reply would be "Oh, I've no idea. I never pay attention — I just switch off." If only I could…

" — the Professor on the radio said that if they put antidepressants in the water, and statins in the ketchup, we'd all be better off."
Right. A chemical lobotomy followed by some franken-sauce. The living dead on a street near you. Perhaps that professor was already following his own dietary advice. There was more science in an original Hammer horror movie.

" — they think that terrorists took that plane, just like on 9-11."
Yep, the same ones who were alive and well afterwards.
" — we'll all be okay, now that America's economy is on the rebound."
Aha. Over two hundred trillion in total debt, about one in four unemployed. Looking rosy.
" — finally our government is doing something sensible. You see, they've run out of money."
What an enlightened perspective: cut social security benefits. Let the buggers starve. Why not create money out of thin air, like banks do, but without the interest?

" — and the head of the Cancer Council said that mobile phones were completely safe. They had a picture of her, surrounded by mobile phones!"
That was it! She had the endurance of a world-champion free diver; I couldn't wait any longer for her to breathe.
"So cell phones are safe?" I asked.
Chin up, "That's what she said."
"And you believe her?"
"Of course. She's the — "
"Yes, I heard you. But why — "
Too late — she must have snuck in a fresh lungful somewhere:
"On the news last night they said there's no ice left for the polar bears — they're all going to drown."
That was it. Oh, I know what I said next was cruel, and, in every way possible, simply wrong. But god damn, it felt good; a most convenient truth, of sorts. With the utmost sincerity and a face filled with regret, I pulled up a chair at the kitchen table, looked my mother-in-law in the eye and spoke thus:
"You know, there's something we've been meaning to tell you, but we've been waiting for the right moment. We just weren't sure how you might take it. But with you having just mentioned the polar bears and their plight, I think you will understand after all." I took a theatrical deep breath, pursed my lips, and blurted, "We've decided not to have any children." I was working hard to keep a straight face — we'd never had the slightest interest in offspring. "I know you've been looking forward to grandkids, but quite simply, the world can't handle any more carbon dioxide."
Her face contorted between shock, rage, and incomprehension. But there was silence; her mouth a gaping black hole.
Thankfully, my wife was playing her best poker face. Seizing the moment, I continued:

"In fact, we've decided to invest in a Prius instead of a baby room. It's the least we can do for the bears." I held her hand. "And you'd know, better than most, I'd wager, that we're doing the right thing. You probably read in the paper today that for every less child the planet is saved from fifty-eight tonnes of carbon dioxide a year."
It was a hollow victory, of course. There was no way the poor old dear could argue with the golden word, whether it be on radio, television, or in newsprint. They simply knew. There was no room for further discussion.
I looked at my wife; her quiet sadness mirrored my own.
The living dead were already amongst us.

About the Author
Zebuline Carter
Zeb writes:
Last week, on a whim I submitted some of my own musings to 'Nuke', and when I checked back today — my time in my 'verse, which is plus six years comparative to you — I saw that he had published some of them! I wasn't even sure the contrived email and attachment would get through, let alone end up published on your internet of things. (BTW — We have nothing quite like your 'net, but we've gone far further into the solar system than you have. Figure that!) Now that I know a connection is possible, I thought I'd tell you a little more about myself and where I'm from. So, from the beginning…
Hi. My name is Zebuline Carter — that's Zeb for my friends or Zeb-you-leen if you want to get formal — and I'm a forty-two year old former astronaut now working as an administrator at Farside, on Luna. Farside is a research base, where innerscopes are just starting to peel back layers of our sheath of the local multiverse. Because our work is so sensitive to em influences, Farside is situated within a one hundred klom diameter exclusion zone.
In my late teens I earned a double major in aerospace and business but passed over grad school for civilian astronaut training. As a kid I collected coupons from cereal boxes until I had enough for my first telescope, and built scale models of all the commercial shuttles and orbiters. Growing up, I'd always felt slightly out of place, like I was meant to to be somewhere else and part of me already was — until, that is, I had my first trip into low orbit aboard a high-riding intercont-cruiser, or ICC. That was a high-school graduation present from my Uncle Jim, and during the fifteen minutes of freefall I found that other part of myself, grabbed it tight, and never let go since.
Did I also mention I'm 180 cents tall with bobbed chestnut hair? Or that because of heart damage from a bad landing, I'm also marooned in low gravity? But heh, there are now six bases around Luna, supporting a permanent population of around twelve thousand Lunans, and a transient population of several thousand tourists and stopovers returning form the outer system, so it never gets boring and I don't get lonely. And living in low G means I won't age or sag as fast, either.
Until next time —