By Louise Zedda-Sampson

The clock on the dash says three-o-five pm. I'm on time; Rob's late. I glance at the house, as ordinary as it is, and make some notes. Red brick, double-fronted, no fence. I've been to hundreds of houses like this: family homes alone once the children have fled. Welcoming … elusive? I cross elusive out.
Four long windows face the street, blinds half closed like lazy eyelids. The driveway widens as it meets the road: yawning, open, inviting.
'I'm waiting for Rob,' I say, then wonder why. It's just a house. I touch up my lipstick and get back to work. Set in a quiet pocket, this family home will offer—
The knock on the window makes me jump. My notebook presses hard on the steering wheel and my neck cracks as I whip my head around. It takes me a second or two to work out the blaring noise is my own car horn. Rob, the real estate agent, stands next to the car, laughing. I shoot him a dirty look and a half smile. 'Yeah, good one, Rob.'
'C'mon then,' he says, opening my car door. 'How's it going?'
We fall into easy banter about unimportant things. He's older than me and sometimes treats me as a daughter. Or maybe it's more like I sometimes treat him as a father.
The sun disappears behind a cloud as we walk up the driveway. A chill wind rises. Autumn leaves scurry around my feet and I rub my arms, failing to suppress a shiver. I don't know when I stopped, but Rob's already up the steps.
'What are you doing?' Rob says.
I offer a weak smile and return to my notes. Carport to covered entranceway. A '70s black-and-white doorbell is on the door frame and the solid-oak door has a metal knocker, just like my childhood home. The memory claws at something deep inside as I climb the three stone steps. My sister peers through amber panels to the left, face pressed hard against the glass. A shadow moves behind the peephole. I blink and it's all gone. No doorbell. No solid oak. No peephole. And, no-one's there.
'It's vacant. We did the photos earlier,' Rob says. He tries several keys in the lock. None of them work. He curses under his breath, mumbles something about them maybe being the wrong keys.
'This one!' he says, eventually, and this key meets with no resistance. The lock yields. The door creeps open. The steady tick of a clock is close but also far away, like an echo. The door swings wide while Rob's still hunched from putting the key in the lock.
He looks at me and straightens. 'Guess we go inside,' he says. 'Maybe it's not vacant after all.' He says this as a joke, but it's not funny. I'm already wanting to turn around and leave.
Ugly and large paisley amber-and-white leaves run in parallel lines on walls. A gold eight-pointed star with a round clock in the centre sits high near the ceiling, keeping a time all of its own. I see myself with a beehive hairdo, a miniskirt and white leather knee-high boots.
As if Rob reads my thoughts, he shakes his head.
A sea of lime-green carpet flows in all directions. Original carpets in impeccable condition. A giggle rises to my lips as I slip back all those years. I see me and my sister rolling in a similar carpet sea, laughing, enjoying its luxurious green depths, lost in the churn of imaginary waves. The soft pile enveloping us, supporting us and keeping us warm.
I see my father. Stern at the helm. Glaring. Telling us to stop, get up, act our age.
'Bloody cold in here.' Rob wrinkles his nose. 'And musty. Leave the door open. For some fresh air.' Rob's step is brisk as he heads towards the back of the house. I step around the room divider and continue to work. Classic '70s' features. Amber-beer-bottle glasswork separates the entranceway from a large, comfortable lounge … Amber light fittings match the glass. An older-style home with period features. I hear Rob opening windows letting in the air.
The sounds fade behind me and I'm lost to my past. I bend down and stroke the carpet's thick pile. It's old but so very soft. So many memories. Winter days and heaters and woolly socks. Scrabble on the loungeroom floor. And ice-cream! There was always ice-cream on a Sunday night when we watched the Sunday movie. I breathe deeply and smell vanilla. I'm afloat, with my memories, in the sea of green.
'The home was left to the two girls.'
I jump. Rob has me on edge and I'm annoyed.
'They didn't know what to do with it.'
I get up quickly, feeling like I've been caught out.
'Been empty for almost a year.' He picks up a carpet deodoriser sitting on the windowsill. I hadn't noticed it until now. 'Need to do something before we open—'
The front door slams shut. The amber beer-bottle divider quivers. Rob drops the deodoriser. The scent of pine fills the air. He looks at the door and back at me. In all these years of working together, he's never looked so pale. He squares his shoulders, adjusts his belt.
'Well, at least it smells a bit better,' he says, as he puts the container back on the sill. The pile of white powder looks like a mini sand dune. I can't help giggling again.
Rob clears his throat, scuffs the powder. 'Better get on with it then.' He opens the front door and is through it in a flash. 'I think I'll wait outside.' Rob pulls the door behind him.
I laugh nervously. 'Just you and me, aye?'
The house seems more intimate now I'm alone. The clock in the entranceway ticks. A tap drips, but it's not from one of the fixtures I have seen. I clutch my pen and notepad tighter. I look around, behind me and in front. It doesn't feel like I'm alone.
I strain to focus on the writing. Large lounge; original kitchen, green laminate bench; rooms, good-sized and light-filled. Art Deco? Umm, not quite. I tap my pen, try to draft something in my head as I walk faster through the house, wanting to finish. Large linen press. Solid-oak polished boards. Bathroom original but clean condition. Three bedrooms, all with BIRs?
Just one more room to go.
As I approach, the dripping noise slows. The clock's ticks become longer, sluggish. The air thickens. My legs feel heavy, as if I'm pushing through sludge. Voices disembodied compete like an untuned radio between stations. Each beat of my heart is a separate action. It's suddenly very cold.
The smell of Old Spice and damp woollen blankets fill the air. I take one more step and enter the final room.
A vinyl recliner draped in a multicoloured crochet rug sits in front of a large window next to a solitary single bed.
He stands beside the chair, ethereal and frail. The carpet in this room is faded, dirty bile-green, worn and threadbare. I drop my pen, my jaw hangs open. I stare. He moves to the chair and sits. His eyes beg a question I don't understand, then open wide. He clutches at his throat, struggling to breathe.
Help me, he mouths.
I back away. The crackle of static fills the room.
Help me, his voice repeats, needy and insistent. Help, help meeeeeeeeeeee.
Waves of voices roll in and join him. The voices band together, screaming, roaring, wailing, a tsunami of dissent. Then the wave breaks in a downpour of despair crashing, crashing against the shore.
And I remember it all.
My father. He was sick. I couldn't help. I was too busy, ignored his calls. He had been drowning too, his lungs filling with fluid. Drowning in his own sea of green.
I clutch my notebook to my stomach, the pain revisited but real. He was so angry and alone, right until the end. We were never able to help him.
'Don't go,' dead voices plead, separately and together. I turn away, like—
'—like you did before,' they say.
'I'm sorry,' I whisper, and run towards the door.
I race past Rob who's waiting in the carport. 'I'll have it done by tomorrow,' I yell.
'What about the— ?'
I don't stop. 'Ring you later.'
I jump into my car and turn the key. I'm moving before I've properly shut my door. Rob runs down the drive, waving, calling out, but I can't stop. I push hard on the accelerator and grasp the steering wheel tighter to stop my hands from shaking. Emotion wells, grows solid in my throat and all the tears from so long ago finally release.
At home, I sit at my desk. My workspace is where I bring things to life. It's a place where I feel safe. I look at the photo of me and my sister, sitting on the carpet in our lounge room, sailing the calm green sea. Dad sits in his recliner in the corner, reading. It was one of the times I loved. I put the photo down and start to type.
The ad practically writes itself. A quick skim and it's almost done. But something's missing. I can't find the line that's the kicker—the one that sells the home.
Then I hear it. A whisper.
'Breathe.' It's my father's voice. This time I don't run. I feel a comfort from his words. I take the breath he couldn't. And another. A warm hand rests upon my shoulder.
This is what we write:
A loving family home. In need of some attention and a little TLC.

About The Author
Louise Zedda-Sampson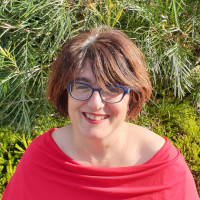 Louise Zedda-Sampson is a freelance writer and editor from Melbourne, Australia. She copywrites and writes short stories, flash fiction and non-fiction articles. Her fiction has appeared in anthologies and student publications and her non-fiction in journals and magazines.
Louise has a Diploma of Professional Writing and Editing and updates her skills regularly through industry courses and seminars. She edits a broad range of fiction and non-fiction and specialises in structural editing for both novice and experienced authors.
Louise also runs writers' retreats in the tranquil settings of the Dandenong Ranges.
Visit Louise at <www.novelsolutions.com.au>.