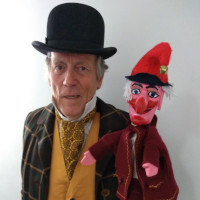 Roger Ley feels that there is a lot to be learned about political correctness from 'Punch and Judy' shows.
'Crash Dummy' is one of the stories in his recently released speculative fiction collection, 'Dead People on Facebook.' All the stories in the collection have been published, podcast or broadcast in the last year, and Steampunk author Jessica Lucci included 'Dead People on Facebook' in her January reading list for 2019.
His other book, 'Chronoscape,' is a well-received science fiction novel about time and alternate realities.
Find him at <https://www.amazon.co.uk/l/B01KOVZFHM?>