By Barry Germansky

Charles was on his hands and knees, staring down at a mound of overturned soil, when he heard a twig snap. The young biologist whipped his head around and saw something that looked vaguely like a man standing several feet in front of him. Charles gasped and scooted backward up the mound of moist rainforest soil, his eyes struggling to make sense of the strange figure that had come to meet him.
As far as Charles could tell, the figure was a ten-foot-tall mass of perpetually swirling black lines that never deviated more than half an inch beyond the confines of the humanoid outline they formed. The figure was staring down at Charles with its two neon-red eyes.
"I have something important to show you," the figure hissed.
"What are you?" Charles stammered.
"I'm what you've always known was going to come for you one day," the figure explained. "The recurring dream you've had of me since you've had consciousness was the promise I had sent you a thousand years before your birth."
The figure's explanation made no sense to Charles, but he reluctantly accepted it. He had, indeed, dreamed of the figure for as long as he could remember.
"I've had something important to show you since before you even existed. Now you're ready to see it."
"See what?" Charles managed to ask through trembling lips.

"I can't explain it to you," the figure replied. "You must see it to understand it."

Charles, who was on a quest for rare soil-dwelling microorganisms, had been reluctant to leave the college biology department for the dangerous and unpredictable rainforest. But that reluctance had been a minor nuisance compared to the fear he now felt toward the figure and its plans for him. In a matter of seconds, the figure summoned a wriggling beam of multicoloured light out of the afternoon sky and all the way down to the ground in front of them, taking particular care to guide the beam through the dense leaves of the jungle canopy. Then the figure led Charles inside the beam, which was roughly seven feet in diameter. The moment they stepped foot inside the writhing tube, they were rocketed up beyond Earth's atmosphere and into deep space. The journey lasted for an indeterminate amount of time, and when they had arrived at their destination Charles finally had the opportunity to consciously feel his heart pounding in his chest. He had never felt it beat this fast before.
"This is the planet you were born to visit," the figure announced, fanning its extended right hand across a barren landscape of enormous jagged rocks, all of which were black and purple in color.
"What am I breathing?" Charles asked, as he felt a cold sensation travel through his throat and lungs.
"Elements unknown to human science that function in a manner almost identical to those you breathe on Earth," the figure explained. "You should be grateful for this treat. In my opinion, oxygen is overrated compared to what you're enjoying now."

Charles was not enjoying the new elements, but he did not have time to voice a complaint. He had just begun to register the landscape around him, and the sight of it filled him with a loathsome sense of awe. The giant black and purple rocks that covered the entire visible surface of the planet ranged in size from a two-storey house to a skyscraper. Charles and the swirling figure were standing on a rock the size of a five-storey building.
"Why did you bring me here?" Charles asked the figure.
"I have something important to show you," the figure replied. "But I have something else to do first. And I almost forgot all about it! Sometimes I have trouble keeping track of time."
"What are you talking about?"
"I'll come back for you. I promise. But, right now, I really must be going. A second for me is the equivalent of a thousand years for you, and I have so many new things to do every second! You understand, don't you?"
Before Charles had a chance to say that he did not, the figure disappeared in a flash of multicoloured light, which Charles thought must have been a wriggling light beam. He began to turn around in a circle, frightening himself with various sights of the desolate planet.
Once he had seen enough, he sat himself down on the surface of the rock and tried to calm his nerves. The figure had told him that it would be back. But how long would he have to wait for it to return? And what was the figure, anyway? Why had it brought him to this horrible place?
Charles felt his stomach rumble, and he wondered whether his immense hunger exceeded his immense thirst. He shuddered suddenly, realising that there was no food or water in sight (and he definitely did not want to search for sustenance on this dark unknown planet all by himself). In the sky above, the pale moonlight of three distant moons seemed to be teasing him.
Charles could only hope that the figure would remember to come back for him. But if the figure had not been exaggerating when it had told him that a thousand human years were equivalent to a second of its own time, he realised that he could be in serious trouble. After all, there had been a vaster than vast number of seconds in his own life thus far, and how many of them could he remember?
He closed his eyes and tried to get himself acquainted with Eternity.

About The Author
Barry Germansky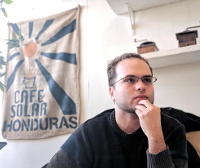 Barry Germansky is a Canadian writer and filmmaker. He graduated summa cum laude from York University in 2013 with an honours BA in humanities. Later, at the same institution, he earned a master's degree in humanities and a master's degree in English. He has written, produced, and directed two feature films, and his plays have been produced Off-Off-Broadway and in Detroit. He is the features programmer for the Pendance Film Festival in Toronto.