By Kevin J. Phyland

Carrington often met me for drinks on a Friday. We would catch up on our respective lives — his as an astrophysicist at Melbourne Uni, mine as a child psychologist with a well-known quango — and our wives had become fast friends as well. We'd known each other since high school and despite our disparate career paths we had maintained our association. More due to geographical convenience than anything else, I often speculated.
When he sat down opposite me this Friday however, his brow was furrowed and there was a distinct air of dejection about him that was uncharacteristic.
I ordered our usual two light beers and got our ubiquitous greetings out of the way.
His pensive quiet got the better of me. "What's eating you, Vince?" I asked.
He looked up from his beer, sitting untouched on the coaster, and played with the sides of his mouth with thumb and forefinger.
"I may have solved the Fermi Paradox," he said.
I mused over this and since I had no idea what he was talking about, as usual, I simply raised an eyebrow and encouraged him to go into lecture mode.
"Not familiar? Okay, yeah. Well it's like this," he said. "We've been trying to find extraterrestrial signals, life, whatever, from other stars for nearly a century now and nary a signal from the entire Universe that we can see. It's a bit of a conundrum since that's a lot of places that could have life."
"Space is big," I contributed. "Old too, isn't it?"
"Yep," Vince replied. "And when we got no signals, visits or anything, this famous physicist Enrico Fermi, who worked on the atomic bomb, asked the question — 'So where is everybody?' And it generated a variety of possibilities. None of which have been terribly enlightening or convincing."
I chewed this over. "So...you think you've hit on the answer? Kudos! I should think that would be cause for celebration then, not the funereal dial you seem to be wearing?"
He chewed his bottom lip and took a healthy swig from his beer.
"Normally, I'd agree," he said, "but in this case it's kind of a bummer. Most of the other explanations relied on vague assumptions about the number of civilisations that exist at any time in the Universe. There's a thing called the Drake equation, where you estimate the number of planets per star, number of civilisations, length of existence of intelligence etcetera and even if you use really conservative estimates you get a really big number for how many civilisations should be out there."
This started to bother me vaguely now as well. "Hmnn...I get it...so where is everybody?"
Vince liked to lead up to things and this was no different. "The universe is pretty old," he said, "like about 15 billion years and this has been plenty of time for our human civilisation to develop this far, maybe even a few times, but it bothered me that the more distant the galaxy, the older they are, and some, if not all...may not even exist any more."
He trailed off and watched me to see if I followed. I sorta did. "Go on," I nudged.
"So...if those galaxies don't exist any more they can't have civilisations either...not to mention that any signals from us still have umpteen billion years to go to reach them. So we can scratch any signals from anything further than about 200 light years away. That gets rid of most of the Universe."
I sipped my beer and scratched my head — a dodgy set of manipulations — and recalled something I'd read years ago. "Isn't life pretty hard to get started? Maybe we're the only ones." I felt pretty smug about my answer.
He peered at me and nodded slowly. "Yes. That's the usual explanation and it could be pretty sound if it was actually true. Turns out the universe is practically riddled with CHON — carbon, hydrogen, oxygen, nitrogen — the stuff of life, so it seems unlikely that we're it."
A light bulb came on over my head — figuratively and actually — it was getting dark under the awning. "Say...what if we just happen to be the first? Somebody has to be first, right?"
He smiled for the first time and nodded again. "You missed your calling, Pete," he said. "That was my initial reaction to the Hubble red shift data too."
I must have looked blank again because he went on. "Everything is moving away from everything else due to the expansion of the universe. In a general sense. Big picture thing. You know, the Big Bang?"
I nodded.
"Well, another more upsetting idea occurred to me today. The universe is big and it's also old. I don't think we're the first intelligent civilisation in the universe."
He finished his beer and peered glumly around before leaning in and whispering to me.
"I think we're the last."

About the Author
Kevin J. Phyland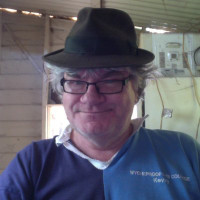 Old enough to just remember the first manned Moon landing, Kevin was so impressed he made science his life.
Retired now from teaching he amuses himself by reading, writing, following his love of weather and correcting people on the internet.
He's been writing since his teens and hopes he will one day get it right.
He can be found on twitter @KevinPhyland where he goes by the handle of CaptainZero and his work is around the place if you search using google or use the antisf.com.au archive.