By Chris Kelso

It's always fascinating to see dream and memory mating in the primal waters of imagination. It will be an honour to witness Dechaume's union.
At the summit we see a great waste of desert. I'm surprised because this seems like such an obvious dream-metaphor for writer's block. Almost too obvious a metaphor for such a visionary writer like Dechaume — after all, it's a privilege being granted access to his inner creative kingdom. And Dechaume's historic contempt for journalists has not gone undocumented. We're certainly grateful. We just expected something a bit more original.
Anyway, we can't complain.
Even if we have no success in fixing his writer's block, well, the advance money we received from the New York Times in exchange for the exclusive rights to our footage should tide us over nicely, for a time at least. I mean, this really is a once-in-a-lifetime job.
I take a moment to document my peripherals on the hand-held dictaphone. I'm compelled to note everything for posterity. I feel seas of shifting mineral brush over my ankles and there is a peace here the kind of which I am wholly unfamiliar with — the kind of calm that only the great Dechaume could imagine in all his ethereal genius. The sun sits as a great ghost ship marooned in the sky. Even in artistic limbo he can be breath-taking.
Then the shifting minerals change into something else. Something obscure, alien, and suddenly moving en masse. Hordes of insects appear, distinguished from obscurity by the sky's burning vessel. I tell John, my cameraman, to train the lens on the thick column of code-covered insects. This is classic Dechaume. His subconscious is trying to tell us something by stimulating the perceptual content around him. I sense we are edging closer to an explanation for his writer's block. The little dream-algorithms scurry in a northerly direction. Leading us, perhaps, to vital pieces of code that might complete the puzzle.
"We must be near a hot zone, John. Quick, turn up the fMRI resolution. Let's see where these things came from and what they're made of."
John complies and the temporal-res of the environment throbs with new creative activity.
"Creative neurons all right." — John confirms.
As documenters of Dechaume's private dreamscape, we have been trained to spot the obvious signs of subconscious communication, and as an accomplished oneironaut, Dechaume is theoretically with us every step of the way as a sort of lucid dream guide. And, of course, he stressed the importance of being present, metacognitively if not physically. We are exploring one of the preeminent voices of our generation. You can understand his sense of caution given that his mind is such a sought-after intellectual commodity. Our apparatus can achieve astonishing feats of tacit knowledge but trust is something you have to earn over time through hard work and loyalty. But it's clear Dechaume trusts us to some extent, if not unsupervised.
The insects scurry along the infinite drift and the viewfinder of John's camera glows with alluvium dreamscape.
New York Times, here we come!
I document to the listening dictaphone that this silent mud-cracked vista is a mute testimony to an intelligence far greater than our own. These affirmations are about posterity, sure, but they're also about keeping the grandmaster confident in our motives. We respect him and have no intention of exploiting him — and in dreams we are at our most vulnerable. If Dechaume starts feeling uneasy, he will eject us from his mind in a heartbeat. This job is all about relationships.
The winds of change sweep in from the west. I look up from the travelling insects and see the skeleton of some fallen behemoth laid before us.
"Are you getting this?" — I nudge John who brings the camera to eye level.
"What is it?" — he asks.
I survey the half-buried fossils. "Some relic of imagination. It's had its bones picked clean by some-thing. By someone."
The words are barely out of my mouth when I see a large spider emerge from behind the fractured birdcage of bone. I jerk back in fright. My Freudian education comes to the forefront — cigars, insects, spiders, fear, guilt.
Danger.
The arachnid scuttles cautiously down the left beam, taking sudden strides towards the colony of insects at our feet. The insects panic and try to disperse, screaming into sentience as the spider wraps its silk around the mass and consumes them in one foul movement of predatory engagement. Jaws flapping, acid spewing.
The screams of lost sentience.
"You know what this means?" — I turn to John, astonished.
"Oh, Christ...dream thieves?"
"Relax, this is an even bigger scoop!"
The Spiders.
John and I have heard of them. This is their calling card — spiders appearing from all corners to purge the algorithms of poor unsuspecting personal landscapes. All in the name of intellectual property fraud. It's easy money if you can infiltrate the right brain and utilise the right covert distractions. I'm starting to doubt if this desert is authentic. It's looking more like this desert is actually a front, an elaborate deceit created by these criminals to distract us.
I curse myself for failing to see through such flimsy camouflage.
But the emptiness shocks me. It certainly makes sense that these factions would target the most fertile imaginations of our generation, but Dechaume's mind has almost been entirely emptied of its creative content. I mean, they cleared the place out! Suddenly it occurs to me that John and I might be part of a much bigger conspiracy. A wholesale mind theft! My excitement dissipates and my next urge is to get out of Dechaume's head and regroup. Collect our data. Get more help. I turn to John but he is nowhere to be seen. The barren landscape starts bleeding like a Salvador Dali depiction of Cadaqués and my own form is soon as afflicted; my colours in quick deluge, hands pixelating to nothingness before my very eyes.
Blackness rushes towards me.
I'm being ejected from the dreamscape by Dechaume. What is he doing? Is he panicking? I can't collect my thoughts and I'm powerless. My limbs are stalks of wet spaghetti. The void sucks me into it and my shrieking heart roasts to a pulp in the microwave of my chest.
I release a silent scream…
***
When I come to, I'm lying supine in the sensory isolation booth. Heart racing, but no longer a mangled pulp. I get up and go to the adjacent chambers where the resting, dreaming bodies of John and Dechaume should be.
Both are gone, scalp electrodes floating in 2-inches of water.
I call after John but I have a feeling in my gut that he is either being held captive by The Spiders or was accidentally subsumed by Dechaume in his state of self-conscious panic. I go to the printer and see my dictaphone monologues stacked in a neat pile in the tray. I re-read some of my notes but they're all indecipherable algorithms. They've been converted to some kind of abstract neuro-algebra. So, the Spiders have scrambled my notes. The bastards. The New York Times will never accept this, especially without any live footage. I notice a footnote that reads in plain text, like an editor's additional comment —
'Weak premise for science fiction story about dream journalists and dream usurpers. Farfetched and convoluted. Characters are two dimensional, especially 'John' who was actually a double agent corrupted by The Spiders and sent to surreptitiously appropriate my thoughts anyway. The main character was so simple-minded that he didn't notice this betrayal. Back to the drawing board. More care next time.'
I hear the ominous scuttling of spider legs on dream-laminate.

About the Author
Chris Kelso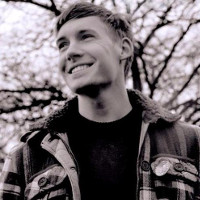 Chris Kelso is an award-winning genre writer, editor, and illustrator from Scotland. His short stories and articles have appeared in magazines and journals across the UK, US, and Canada, including: SF Signal, Lovecraft ezine, Daily Science Fiction, AntipodeanSF, Dark Discoveries, Pantheon, Evergreen Review, Sensitive Skin, Shoreline of Infinity, The Airgonaut, New Coin, Verbicide and many more.
His work has been translated into French and he is the two-time winner of the Ginger Nuts of Horror Novel of the Year (in 2016 for 'Unger House Radicals' and in 2017 for its sequel 'Shrapnel Apartments'). 'The Black Dog Eats the City' made Weird Fiction Review's Best of 2014 list. 'Shrapnel Apartments' was endorsed by Dennis Cooper on his blog — "4 Books I read and Loved".