By Susan Cornford

Gavin walked down the corridor of the space shuttle on his way to Cabin 21. It was meant to be unoccupied on this short hop between two nearby planets, but the monitor was showing a life form as currently present. Passengers were not allowed to wander into empty cabins but mistakes about locking and malfunctions of equipment did occur, as well as exploration — especially by younger passengers who became easily bored. Since this was his first trip as the chief steward, he wanted things to go smoothly, so he reviewed all the techniques he'd learnt, in training and from experience, for dealing with those in the wrong place at the wrong time.
At Cabin 21 he found the door locked and the mechanism to open it operated easily. Doing so slowly to its fullest extent, Gavin quartered the interior. There was, indeed, an attractive, young woman standing inside, herself looking around at everything there was to be seen. This wasn't very much because, for short trips, shuttle cabins were provided with the No-Frills Amenities Package. Their eyes met and they both smiled, Gavin professionally, and the young woman with more warmth and sincerity. "I'm sorry but you're not allowed to be in here and I must ask you to go back to your own cabin or the public areas of the shuttle."
Her smile widened, "I'm so sorry; I had no idea I shouldn't be here. Of course I'll leave at once." She started to act on this but, as she passed him, he reached out to block her way. "Wait! How did you get in here in the first place? Did you find a key?"
She moved back into the centre of the cabin. "I didn't need a key; the way was open."
"You mean the door was unlocked?" He reached out and jiggled the mechanism again.
For the first time her smile faltered and her hands twisted nervously around each other. "I shouldn't have come," she almost whispered. "But I was so curious."
She looked so stricken, he reached out and took her arm. He felt it constrict in his grasp to nothing. Then, gradually, the rest of her deflated until she resembled the blow-up doll of his sexually-experimental teens. Gavin lowered himself to a sitting position on the bed. He doubted the monitor would show more than his own life form as occupying the cabin now.
He'd clearly just had an interaction with an alien that had somehow transported itself into the vacant cabin and taken on the semblance of human form when interrupted. Yet, all the equipment that had been sending out and gathering in signals for years, looking for alien contact, had come up with nothing. So, who was going to believe they had finally chosen to do it here and now? He reached out to touch the deflated "doll" and it crumbled to dust in his fingers. Well, no proof to be had with this. Still, she…it…had said it was curious. So, maybe it could somehow be lured back to satisfy more of its curiosity and he could film it.
Gavin was glad now that he'd been assigned to the same shuttle for his six-month trial as Chief Steward. From long experience, he knew the thing most liable to malfunction was the plumbing mechanism, so he shoved a few handfuls of wiping product into the bowl to keep the cabin on the "Out of Order" list till further notice. He set up his cameras, made a list of things that might be of interest to a non-human and brought representative samples or media displays to the cabin. All the while, he broadcast mental invitations into the ether as he waited to see if the alien would make a return visit to Cabin 21.
Eventually, his six-month trial was over. Last day of his trip, and he was due for transfer. He sat on the now-familiar bed of Cabin 21 and sent out a sad "good-bye", idly rubbing at a dark spot on one hand. The spot dropped to the floor and grew into the same young woman he'd seen before. "Thank you for all the wonderful things you have shown me about your worlds and peoples," she said. "I must go back now and report what I've learnt. But it's only fair to offer you the chance to do the same for your people if you wish."
***
The repair crew couldn't work out why they found nothing wrong with the plumbing mechanism of Cabin 21 after it had been reportedly blocked for the past six months.

About the Author
Susan Cornford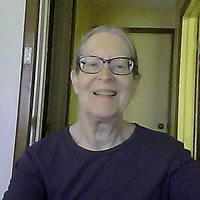 Susan Cornford is a retired public servant, living in Perth, Western Australia, with pieces published or forthcoming in 50-Word Stories, Akashic Books, Antipodean Science Fiction, CarpeArte Journal, Ghost Parachute, Medusa's Laugh, Speculative 66, Subtle Fiction, Switchblade, The Fable Online, The Gambler, The Vignette Review and The Were-Traveler.
She considers herself an emerging flash writer.