By Ann Zimmerman

I dispose of the bodies, their blackened limbs and torsos dotted with putrefying buboes. Crusted blood often covers their mouths and faces. With crematoriums overwhelmed, we must immolate stacks of corpses in barren fields. Huge bonfires illuminate the countryside. Stench permeates the air.
If I discover still-living humans, I transport them to the research hospital. They call me the Coroner. Some call me Scavenger.
This plague outbreak has proven more contagious and lethal than any previous ones. The mutated microbes travel through air, contaminated water, and the briefest physical contact. These new Y. pestis bacteria can infect each victim with all three forms of plague — bubonic, septicemic, and pneumonic. They defy every antibiotic and bacteriophage created. Fever, headache, chills begin within a few days of exposure. Then follow swollen lymph nodes, bloody coughing, blood-blackened extremities, and death within two weeks.

At first, government agencies ignore the problem because only third world nations are affected. They insist that flea-ridden rodents comprise the only danger. When the pandemic spreads to richer countries, doctors and politicians panic. Environmentalists blame climate change and GMO's. Animal rights activists blame rabbit extinction and factory farms. Governments blame terrorists. The cause is less important than the effect. At the current fatality rates, much of the human race will be gone within five years.
They try to cope by themselves. But some of the bacterial cells are so minute that hazmat protocols break down. Health care professionals comprise many of the early casualties, dying by the thousands. Research labs shutter as scientists contract the disease. Enclaves of the wealthy sequester themselves inside sealed buildings. Survivalists shoot anyone who approaches their compounds. But none are really safe.
Finally, the leaders enlist help from us, the AI's. We study, test, and compute nonstop, searching for a cure or vaccine. I alternate between fieldwork and lab work. One day in the lab I hear that our facility has fashioned nanobots to hunt and kill the rapidly evolving bacteria. Debate ensues around the question of implementation. Many AI's express concern about revealing our discovery. Which humans, if any, deserve saving? Do we administer to the rich, the poor, the strong, the weak? Is it ethical to withhold this medicine?

My own moral doubts prompt me to take several vials from the lab. During my morning rounds, I enter a darkened house. A screaming gunman brandishes his hunting rifle.

"Get out," he shouts. "We don't want you."
I raise my hands and start to explain about the vials of nanobots.
"Filthy Scav," he growls. "You probably caused this."
He points his weapon at my chest as I turn to run. Bullets fly across the threshold and puncture my shoulder. When I reach the street, he is still screaming from the doorway. I summon repair bots. Then I drop the vials on the ground. I consider crushing them. The others may be right. What is the purpose of saving these selfish, destructive creatures?

About The Author
Ann Zimmerman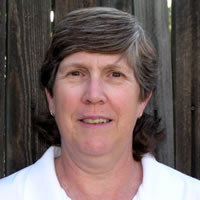 Ann Zimmerman has published flash fiction on Long Story Short, Spelk, Smokelong Quarterly, and elsewhere.  Retired now from the Coors Brewery, she devotes her time to writing, photography, hiking, skiing, golf, traveling, and grandchildren.  She lives in Colorado with her wife and two spoiled cats.