By Matthew Harrison

Mackay at last had the chance to raise the question of funding. But Henderson the Project Director just sat, fingers pressed thoughtfully together, gazing through the window at the rolling parkland outside the headquarters. His bald head segued into his round smooth-shaven face as if the whole had been an inflated ball. Strange, Mackay thought — he hadn't noticed that before. A chocolate bar, lying among the papers on Henderson's desk, was the only redeeming note.
"An extraordinary feat," Henderson was saying, without conviction.
Mackay seized on this. "The collective effort of mankind," he nodded vigorously. "A sort of collaborative Moonshot."
"It was found on the Moon," Henderson mused, still looking out of the window. Then he turned to Mackay, eyes looking through him. "What do you need?"
Mackay drew a breath. A world-leading project — and this from the Director! But he swallowed his indignation. "In a word, funding," he began. "The initial money covered us for six months, and we've got a long way into determining the material's properties, but we need more, especially for the electromagnetic effort, which in fact I'm heading."
Mackay saw Henderson's gaze drawn back to the window, caught by the trees outside which were rocking as if blown by the wind. How could he get the man's attention?

In sudden inspiration, Mackay pulled out his pocket handkerchief. "The thing is about this size," he said, brandishing it, "like a piece of silk, but under certain electromagnetic stimuli, it flexes itself into complex shapes. The molecules form a crystalline lattice of extraordinary hardness," he made a fist under the handkerchief, tapped it to indicate the hardness, "which, on further stimuli, can just as easily be collapsed back into the original silken form," he made his fist limp. "We had, in effect, to reverse-engineer an entire app of alien code", he concluded, allowing himself a smile of pride.

Henderson was at last looking at him. "So what's left to do?"
There was something wrong with the trees outside, but Mackay, bristling, could not focus on that. "The thing's inexhaustible!" he cried. "We think we've cracked the code at a practical level, but there's more, much more. What about the coding language? The meta-concepts — what do they reveal about the mind of the coder? And there's the shapes the material makes when folded. The topology team's starting to think that they can only be understood within a six-dimensional frame of reference … "
Henderson's attention had at last been caught. The eyes in that expressionless round face looked at Mackay quizzically. "Higher-dimensional beings, these aliens? Able to take interstellar distances in their stride?"
Mackay laughed, despite his irritation. "Well, we don't know their means of transport! But yes, they must have means to get here — energy sources, shielding, lasers … " He had in fact given thought to this very problem, although it was outside his field. What did the unique artifact reveal about the aliens' technology? And would the aliens return?

Mackay was about to launch into his tentative ideas on this, when he recalled the purpose of the meeting. Funding! How could he have forgotten? He opened his mouth with new urgency.
But a bright metallic sphere had suddenly appeared in mid-air in front of them, and was expanding, pushing aside the desk. And Henderson himself — his face had become completely round, truly a ball.
Mackay gasped. Now almost hidden by the expanding metallic mass in front of him, the window showed parkland dotted with similar spheres. With a kind of detachment, he realised that this was the end. Yet the scientist in him wanted something, wanted knowledge even when knowledge was of no further use.

"What was it?" he shouted, stepping back as the sphere filled more and more of the room. "What was that scrap of stuff?"
Henderson's face was merging into the expanding sphere of his body. But he — or it — extended a strangely elongated arm and caught something that at that moment slipped from the toppling desk. With preternatural clarity of vision, Mackay saw that it was the chocolate bar. The fingers moved deftly, and the little chunk of chocolate fell to the floor, prompting in Mackay an absurd twinge of regret.
The arm was raised, the fingers held up a crumpled scrap of foil and paper. There was a crackling rustle.
"A wrapper," came Henderson's voice, itself metallic now, as the roof fell in.

About The Author
Matthew Harrison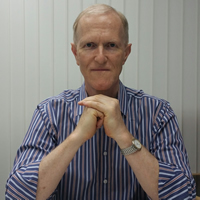 Matthew Harrison lives in Hong Kong, and whether because of that or some other reason entirely his writing has veered from non-fiction to literary and he is currently reliving a boyhood passion for science fiction.  He has published more than eighty short stories and is building up to longer pieces as he learns more about the universe.  Matthew is married with two children but no pets as there is no space for these in Hong Kong.