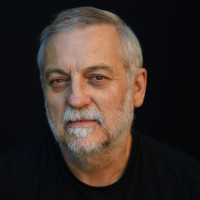 Frank Prem has been a storytelling poet for forty years. When not writing or reading his poetry to an audience, he fills his time by working as a psychiatric nurse.
He has been published in magazines, e-zines and anthologies, in Australia and in a number of other countries, and has both performed and recorded his work as 'spoken word'.
Frank has published two collections of free verse poetry – Small Town Kid (2018) and Devil In The Wind (2019).
He and his wife live in the beautiful township of Beechworth in northeast Victoria (Australia).
Note:
Frank's mythologically themed and audio recorded poems were produced and accompanied by his wife, singer/songwriter Leanne Murphy.
Publications
Small Town Kid (2018) A free verse memoir of growing up in rural Australia in the 1960s and 70s.
Devil In The Wind (2019) In free verse, the voices of victims and survivors of the horrendous Black Saturday bushfires in Victoria (Australia) in 2009
The New Asylum – a memoir of psychiatry (scheduled November 2019) A free verse memoir of a lifetime growing up with and experiencing public sector psychiatry in Victoria (Australia), from the 1960s to the present day.
Herja, Devastation (2019) an experimental fusion of free verse poetry and prose by Australian authors Frank Prem and Cage Dunn to tell the story of a Valkyrie and her mortal assassin/accomplice as they mete justice and vengeance.
Frank Prem Contacts and Social Media
Author Page (Newsletter sign up): <https://FrankPrem.com>.
Facebook page: <https://www.facebook.com/frankprem2>.
YouTube: <https://www.youtube.com/channel/UCvfW2WowqY1euO-Cj76LDKg>.
Twitter: @frank_prem <https://twitter.com/frank_prem>.
Amazon: <https://www.amazon.com/-/e/B07L61HNZ4>.
Goodreads: <https://www.goodreads.com/author/show/18679262.Frank_Prem>.