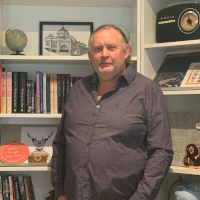 Jack Beltane is a resident of Melbourne, born 1973 in Perth, grew up traveling the country following his navy father on various postings.
Growing up with Doctor Who, Lost in Space, Twilight Zone and Star Wars all influence Jack's writing style. He started writing at age of 13, choose your own adventure books, poetry by age 17 and retired from writing at age of 18 to follow a career in the military and railways, which both involved travelling interstate to find work.
Fast forward 24 years to 2014, fiscal crisis at work meant poverty or study, enrolled in University of Tasmania, studying for the next three years a Bachelor of Arts History major.
Moved interstate again in 2017, Jack began in 2018 a Bachelor of Arts Writing Major at Victoria University. The two study fields of history and writing have seen Jack write across many genres from Sci Fi, poetry, non-fiction (lyric essays), playwriting and memoirs. You can find out more at his website: <www.jackbeltane.com>.