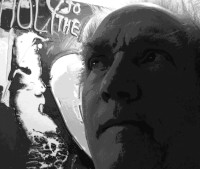 Dr. del Sur left his practice in the Barrow straits of Alaska after taking a sabbatical in Jerusalem to explore the chattels of binding, a branch of experimental dentistry that references the Maquilas teeth worn round necks in invisible servitude.
In his increasing role as an international troubleshooter he was involved thereafter with various dentitions of radioactive speech, but has not left dentistry behind, even if his present post in Antarctica is in a location undisclosed, near the trans Antarctic mountains that divide east and west, the vicinity of the Leveett Glacier of the Queen Mauds planned route for overland supply joining McMurdo and Amundsen-Scott Stations.
Such research is conducted far from observed eye where removals in the dental cosmos of the invisible chattels of liberation are well represented in the innocent teeth-mountains, although certain culpable agencies are not to be named.