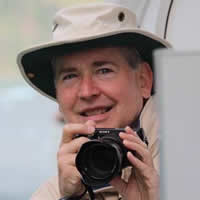 Robert writes about himself:
You can also find this story in my collection The Other Side of Forever, on Amazon.
I grew up in Birmingham, Alabama. I have a cat that sometimes gets in the way of my typing. I am also a photographer. At 48 years of age I was diagnosed with Asperger's Syndrome, a high functioning form of autism. Recently I have become a self advocate.
I graduated from Huntingdon College in 1981. I studied photography at night classes held at the University of Alabama in Birmingham. I got an MS degree in Journalism at Murray State University. Then I worked at newspapers and publications without much success before I went to Portfolio Center in Atlanta in 1994 to study Commercial Photography. After one year I left because I did not like the teachers or their teaching methods. Not having very much success finding commercial photography jobs I worked at several retail establishments in Atlanta until I decided to move back to Birmingham Alabama in 2002. I got a degree in Web Design in 2007 From Jefferson State Community College and once again couldn't find work. I have found a new purpose in life since my diagnoses. I am a Governor appointee on the Alabama Interagency Autism Coordinating Council and the Regional Autism Network as well as volunteering for several activist organizations, all well being a caregiver for my Mother.
Growing up autistic I always had a different angle on things. That may be why my stories are so strange.
Previously in Antipodeon I've had "A day In Caaatahlona 1 City Beneath The Waves," AntipodeanSF February 2018
I've also had the epic poem "The Blossom War," published in 18th Wall's anthology, The Dragon Lord's Library.
I had a short story "Silver Image," published in the Daguerreian Annual 2015.