By Jackie Hosking

"I'm going to jump from a plane, I say."
"With a parachute?" hubby asks.
"It's on my bucket list. Wanna come?"
"Nope."
"Shaving all my hair off is on the list too," I say. "It must be wonderful not to have to worry about your hair. And besides mine is so thin and it seems to be getting thinner every day; I imagine the freedom to be wonderful."
Hubby rubs his hand over his bald head. "Do it," he says.
"What? Now?"
"Yeah, come on."
I take a big gulp from my glass of wine. I seriously consider it. I gulp again, drain it. Refill it. I'm terrified. But of what? Of looking ugly. Of looking ridiculous. Of rejection. Of ridicule. Of being exposed. I think of words. Cancer. Holocaust. Dyke.
I walk to the bathroom and look in the mirror. My fifty-year-old reflection looks back at me. I run my hands through my thin, shoulder length greying hair. I run my finger along my odd shaped nose that I decorated years before with a nose ring. It was that or surgery and I'm not that vain. Or am I? My ears stick out a bit too and I've a rather large forehead. All these things I hate about my face and that's the problem. I hate that I can use the word hate about my face. I've tried to hide my face all my life. I would never swim in front of people because my thin wet hair couldn't hide my face. I hate when it gets too hot because sweat makes my hair limp and flat and it sticks to my head and accentuates my face — my big, wide, bent nosed, big eared face and god forbid the world should have to put up with that.
***
I can feel him behind me.
"Wait! Hang on! Just wait a minute. Fuck. Fuck. Fuck."
***
The next morning, I wake to a sick feeling in my stomach, part hangover, part disbelief.
But I did it. I faced my fear.
Unfortunately, I'll never walk again.

About The Author
Jackie Hosking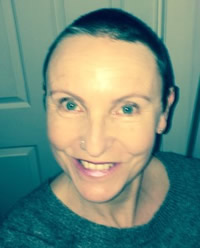 Jackie Hosking is an Australian born in Nigeria to Cornish parents. Being short, she writes short. Flash fiction, poetry and picture books. If she were braver she'd be astand-up comedian. But she isn't. Jackie has published many poems for children. And her dream of publishing a rhyming picture book arrived in 2014. Thanks toEdward Lear and Walker Books Australia, she mutated 'The Owl and the Pussy Cat' into its Aussie cousin, 'The Croc and the Platypus'.
Her next dream is to publish another one. A Jackie of all trades, she writes, edits and publishes an ezine foranyone interested in the children's book industry. She has two blogs that she'd love for to visit <www.jackiehoskingblog.wordpress.com> and <www.jackiehoskingpio.wordpress.com>.