By Brian Catto

Boone knew his name would be called. While the others went to recess he studied astrophysics, when they went to the movies or the circus, he did extra gym sessions. He knew he'd be picked, his classmates knew he'd be picked, his teachers knew he'd be picked and his parents knew he'd be picked. It was destiny.
Rajiv Naranjan rose from his chair and approached the lectern. Captain Naranjan was a local hero. Just twenty years ago he had been at this very school, in the position where Boone now sat, just as eager then, as Boone was now. And here he was again, having just completed his fourth mission to Mars last week, about to read out the names of the lucky few.
The preliminary tales of his adventures seemed terminally long to Boone — any other time he would have hung on to every word, but today he just wanted to hear his name. Finally the captain opened the envelope and called out the name of the successful candidate — Boone Sutherland.
Despite his confidence, a wave of euphoria and relief swept over Boone, to the point that he wasn't even aware of the names of the reserves being called out — Sakura Yakamoto, Shauna Maloney and James Creighton-Smythe. These names were irrelevant anyway — he had been chosen.
During the afternoon tea that followed the formalities, many of Boone's class mates came up and congratulated him, telling him how lucky he was. He politely thanked all of them, but in his heart he knew that luck played no part in it. His selection was entirely due to his efforts — the long nights of study, the missed parties, becoming a bit of a loner — they were all worth it.
He thought of his father — he could have been the first man on Mars. Instead he was grounded, one week before launch, when a routine check-up had found the lump. Not a big lump, but any lump was bad in the space program. The tumour turned out to be very aggressive. Boone's father was dead before the four-month Mars mission, that he was meant to be on, had completed. It was at that moment, eleven years ago, that Boone determined that he would complete his father's work. And now he was about to do it.
***
Training had been long, and it had been hard, but soon the six-month program would be over, culminating in the first manned mission to Venus. As he had at school, Boone had put everything he had into his training. No-one came close to his results – aptitude, coping under pressure, working in zero gravity and working with limited oxygen — Boone blitzed them all. There was no doubt he was the perfect candidate for this mission.
Only one week of training left. Only one week until take-off. Only one week until Boone's name would be written in the history books. Only one week.
Boone sneezed.
Must be dust in the air, he thought.
Boone sneezed again. Oh no! This isn't happening. He couldn't be getting sick, not with his daily vitamin shots, not when he had been inoculated against all known strains, not when he was in peak physical condition, not when he was this close. It couldn't be happening.
"Boone," the instructor yelled. "Report to sickbay straight away and have that sneeze checked out".
It's just dust Boone repeated over and over in his head as he walked down the corridor towards sick bay. In his heart he knew it was worse — he had felt the onset a couple of days ago, but he couldn't accept it — he could beat this by working harder and harder.
Boone entered the sick bay. It was a small sterile room, all white. There was no need for a large room — astronauts did not get sick! There was a single bed in the room, currently empty, and a nurse was filing papers in the cabinet in the corner. On hearing Boone entering, he placed the last papers in the cabinet and closed the drawer, turning to Boone.
"What can I do for you Cadet Boone?" he asked.
"I need something to stop a sneeze," Boone replied, "I think it's dust."
The nurse indicated that Boone should sit on the bed, and then he ran a series of standard tests — temperature, blood pressure, ear, nose and throat inspection.
Everything pointed to a virus — Boone was grounded.
He sneezed again.
***
As the countdown came over the loudspeaker, Boone watched on from the observation booth.
10, 9, ...
The look of disappointment could not be hidden on Boone's face.
8, 7, ...
He should be in the launch module, not here.
6, 5, ...
He had beaten Sakura in all the tests — a tinge of anger started to show on his face.
4, 3, ...
He sneezed — for the thousandth time he cursed the tiny microscopic organism that had grounded him — of all the bad luck. Life wasn't fair. All because of a tiny virus, he was here and not there.
2, 1, ...
A massive explosion rocked the booth. A fireball rose into the air and clouds of dust and debris rained down on the roof.
As the crowd looked on in horror, Boone sneezed, the merest hint of a smile showing on his face.

About the Author
Brian Catto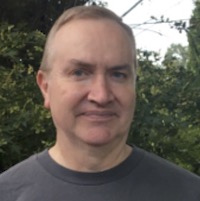 Brian Catto was born in Scotland, raised in the Barossa Valley and settled in Canberra.
He is married to Lina-Marie Catto, author of the young adult novel 'The Sindbad Legacy: Destiny Stone' and has two beautiful daughters with her.
He has had a lifelong love of Sci-Fi, Fantasy and Horror.
This is his first short story to see the light of day. The rest is subject to change without notice (to quote his favourite fantasy author, the late, great Anne McCaffrey).