By Brenda Anderson

Four droplets glided into The Alien Nutcracker. Proprietor Navi bowed low.
They quivered. "Sir, we seek your help. We're battling a lifelong instability."
Navi sighed. He always got the weird ones. "Guys, I import exotic nuts."
"Of course. Our problem is exotic, even existential."
Their sweet, bell-like voice became serious. "From time to time we literally cease to exist, then we reappear at some point down the track. We need to eliminate those gaps. Please help."
"Listen." Navi spoke slowly, deliberately. "I import nuts. I don't meddle with existence."
The droplets formed a semi-circle and conferred. "I told you he couldn't help."
"But the sign says 'Alien Nutcracker'!"
"As in, I will resolve all your metaphysical problems?"
"Look around. It's all alien nuts." Murmurs of assent. "But I was so sure he could help."
"We need someone familiar with the branch of metaphysics concerning the nature of being."

A snort. "We've tried that, remember. Ontology was useless. There remains another option. The possibility of one or more gods." They turned to Navi. "Can you advise us? Please?"

In addition to their metaphysical problem, perhaps they're deaf? Navi looked around. Blind as well? Behind him, the Alien Nutcracker's conveyor belts, cogs, chutes, grinders and beaters processed nuts from far-flung galaxies. He sold the choicest of delicacies, the food of the gods.
Food.
Not gods.
The shop bell rang. A time-sensitive delivery. If the contents weren't processed in a hurry, they'd spoil. Which meant these god-seekers would have to wait. Navi opened his mouth to explain, but the droplets got in first. "We'll wait. Is this space suitable?"
"Absolutely." Navi took a small transparent bag from behind the reception desk and placed it upside down over the droplets. If he stepped on them by mistake, word would get round. He didn't want to offend anyone. Navi helped the driver carry five large boxes inside and feed the contents into the hopper. He paid him and switched The Nutcracker on.

He turned round.

The bag was empty. They'd vanished. No trace of moisture remained on the floor.

Navi shrugged. Easy come, easy go.
Three months later they turned up, radiant. "Hi! Remember us?"
Navi nodded. Droplets with existential problems, seeking god. "You disappeared. What have you been up to?"
They quivered. "We met a god. You won't believe it. We were nowhere — literally — when he turned up. Said his name was Jesus, and he knew exactly what we were going through. Had himself ceased to exist for a while: three whole days. Hell, he called it. He asked us to follow him. We did. Now we're in continuous, joyful existence. Incredible, isn't it?"
"Sure." Navi wasn't religious, but he couldn't deny the radiance. "So, what are you guys up to now?"
They laughed. "We joined the choir! Come and hear us! We'll send you an invite." They glided out, singing 'Jesus wants me for a sunbeam' in perfect four-part harmony.
Navi watched them go.

Yes, alien nuts came in all shapes and sizes.

Clearly, Jesus loved 'em all.

About The Author
Brenda Anderson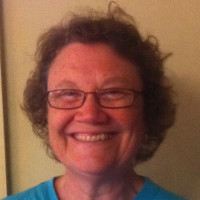 Brenda Anderson's fiction has appeared in various places including ASIM, Daily Science Fiction and Flash Fiction Online. She lives in Grange, SA, and tweets irregularly @CinnamonShops.