By Tim Train

She walked in the shop in a polka dot dress,
And a hat made of twenty house bricks;
She ordered a coffee, with sugar, I said?
And she stunned me with several kicks —
My dream girl.
She said, hey, we're flying, so I looked and we were
Then I fell onto Barack Obama.
Then she went away and when she came back
I was in school in just my pyjamas —
My dream girl.
Then she was a churchyard but she was still her,
I was stuck in a hole, until sighing
She helped me get out and she took off my head —
She was utterly terrifying,g
My dream girl.
Then shouting my name she shattered two eggs
With a hammer and then I woke up —
My dream girl.

About The Author
Tim Train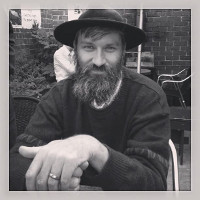 Tim Train is a silly old fart masquerading as a silly middle aged fart who still thinks of himself as a silly young fart. He lives in Lalor, in the northern suburbs of Melbourne, with a bunch of chickens (who he meows at) and two cats (who he clucks at), and a bunch of bees (who he is frankly terrified of and tries not to have much to do with at all). He is one of a team of MCs at Melbourne's longest-running poetry reading, "Poetry at the Dan O'Connell". Even sillier writing of his can be found on his blog, Will Type For Food.