By Eugen M. Bacon

I find Shambler on the shore run.
'I surfed with a dead Phobos!' he says.
'Come.' I steer him off the cerulean arena.
'Zubrin!' He stalls his feet on vivid ice. 'You don't believe me!'
'I'm still dizzy from the capsule.'
'For real? Come on!'
'I'll buy you a drink.'
Shambler's mad: a wee surf on Neptune and his marbles are gone. Yet it was he who invented this new calibre of space travel. You just swallow a pill and vavoom!—you're here.

Inside Stein's, a quaint pub with high ceilings, Shambler is right back on topic. 'Really happened, Zubrin,' he says, in between gulps of meth wine. If first he was mad, now he is drunk.
'You really should slow down on that tipple,' I say.
'Wonderful nose; a bit of ammonia. I'm paying it homage. Now, about this dead Phobos—'
'Get it out.'
'Thrice world champion surfer, a planetary under his belt. His name was Becco—should have seen him at the Masters championships in Cassini.'
'Cassini?'
'Capital of the GRS.'
'GRS?'
'Shits Zubrin, where do you hang? Never been to the Great Red? Near Apollo. Damn.'
'I do not share your travelling enthusiasm.'
'But you came to the ice giant.'
'For you. And only because it's summer. Pill travel sucks.'
'Thanks champ, moral support and all,' says Shambler.

'Go team.'
'Don't be so dry. I made quarter finals. You know how cool those guys from Phobos are? They're born surfing. This Becco looked ordinary upfront—sure he had feet like ski boots, but get me: ordinary, right? So I see him in Neptune, get all excited, you know me.'
'Go figure.'
'I am on the end-to-end arena, practice flips and all, but I'm nowhere near this guy's dives. Next minute, there's commotion and Becco is face down. I'm like: What's going on? Someone's like: That's definitely dead.'
'I'm sure.'
'Surf track's on a slide, everyone's in a panic, no one's seeing dead Becco and his board slipping down the slope. I slide down the arena, leap onto Becco, straight into dark spins, a tube of waves. We loop up then down on a storm cloud, swings and rotations, then up over the top. We keep ahead of the break, a big curl of azure surf. Big fella's dead light on his surfboard, hands loose as if he's paddling. We look for another tube, bigger this time, and we stay there a while. Exhilarating, quite! Then this monster wave wipes us out and dumps us back to the shore run.'
I imagine Shambler and Becco on that mid-morn glide, one last surf over molten rock at its brightest, over elevation changes every hundred meters tossing them upwards, Shambler maneuvering, Becco strapped to his board. Impact landings at the deltas, cool lava more than 600 million years old.
Shambler's eyes are still radiant. He sighs. 'Goopy gosh. I surfed with a dead guy.'
'Can I have a pill for the way back home now? Earth needs me.'
'Keep it right here. So uptight, man.' He burps, pats my hand.

About The Author
Eugen M. Bacon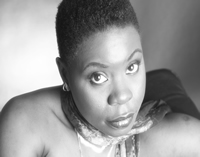 Eugen Bacon has sold many stories and articles, together with anthologies. Her stories have won, been shortlisted and commended in international awards, including the Bridport Prize, L. Ron Hubbard Writers of the Future Contest and Copyright Agency Prize. Literary speculative novel — Meerkat Press (2019). Creative nonfiction book — Macmillan (2019)