By Sarah Anne Ross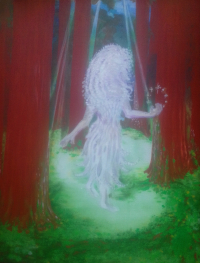 She was made of starlight.
She stood only a few metres before him. Surrounded by old redwood trees, whose branches interlaced and were so thick with foliage that only a few beams of the night's light trickled down to the soft, mossy ground.
Her eyes were closed, peaceful and serene. Her hair floated lightly down her back, the strands of shimmering diamonds gently tinkling in the cool night breeze. Her radiant, iridescent body shone like a full moon, he couldn't draw his attention away from her. The surroundings were so gloomy and dreary in comparison to her brilliance.
Is she real?
He took a hesitant step closer. Surely one wrong breath would make her cascade into a glistening waterfall. But he had to know if she was real. That was all that was coursing through his mind. He had to know. He needed to know.
He moved towards her, stepping lightly, creating only the slightest whispers of sound as his feet came in contact with the soft ground.

She did not move.
He continued to move towards her, careful, but with more cause now. She had to be real. He needed to know — he needed to be sure.
He was close enough now that he could reach out and touch her; run a hand through the strands of her glittering hair. She still had not moved. He would have thought her a statue if it weren't for her shining hair, the diamond strands gently dancing and swaying in the light breeze.
He was unsteadied by her beauty, but tentatively, cautiously, he reached out a trembling hand, and touched one finger to her face.
She opened her eyes. And he stumbled back in terror, bile rising to his throat as he took in the full sight of her.
She was no longer made of starlight. Whatever glamour or illusion that had concealed her true form had vanished as soon as he'd looked into her eyes.
Half of her face was sagging, decomposing flesh, with maggots crawling through the holes in her rotting face. The other side was stretched so taut black veins bled underneath her skin. Bloodied cracks decorated her lips, and her nose appeared to have melted off, as if made of wax and then lit aflame.
She was no longer crystalline and ethereal.

She was horrific
But her eyes. Oh, her eyes. They burned like the centre of the sun, ember bright and fire scalding. He could not look away.
Shadows began bursting from around her being. Twisting, spiralling, straining. Some caressed her, others drifted about her. But it was clear that not one of them wanted to be held back.

There was a moment of hypnotising motionlessness. The wind stopped. His breath and heartbeat stopped. The paralysing moment between the two lasting both one second, and an eternity.
Then she let her shadows go.
They wrapped around him at staggering speed, squeezing him. Smothering him. Some tore the flesh from his arms, and he screamed as they cut and carved to the bone. Others embraced him, like they thought him a long-lost lover, caressing him and whispering sweet nothings in his ears. The rest began extorting his soul from his body.
He did not die.
He fell to his knees as the last of his soul was drained from his body. And then his body collapsed, a vessel now for naught. But he still stayed upright.

He was shadow. Alive, but incorporeal. Like those who had taken everything that was him away. His life, his essence. His emotions and memories and thoughts.

And as the queen of shadows held his soul up to him like a beacon in the dark, he knew that if he stayed there, without her, in the dark of the night, he would disperse, and fade into nothingness.
She turned to move away, and he made his choice. He could not stand the thought of becoming nothing, so he followed her.
And he knew he would follow her forever.

About the Author
Sarah Anne Ross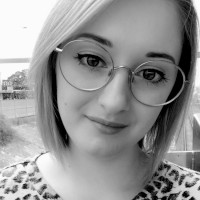 Sarah Anne Ross is a Melbournian born-and-bred, and has a background of events management in the local music scene.
She is now the Treasurer to the #LoveOzYA Committee, and frequents as many book events as possible to celebrate amazing Australian writers.
When she's not writing or journaling, she's curled up with an audiobook, her cat, and a cup of tea!