By Laurie Bell
Each day I examine the "pictures" that come back from the new space-located telescope. It's larger and has far greater range than the old James Webb. Though "picture" is a generous, rather simplistic term for what I spend my days examining. In reality, it is just numbers. Numbers that cascade across and down my computer screen. Ever changing, always moving. Endless numbers. To some, it is nothing but gibberish. To me, it is magic. I'm looking at solar giants, quarks, pulsars and distant spiral galaxies. The computer is able to put the numbers into pretty, picturesque forms so that the masses can "ooo" and "ahh." My magic is that I can look at the numbers and see the picture inside my head. I'm the first one who gets to see these images. It is an honour and a privilege.
Everyday I am in awe of the power of nature.
I'm looking back in time. How many people can say that?
So you can imagine my jolt of fear when one day the numbers don't make sense. I lower my tea cup from where it has frozen in front of my lips and shift my body closer to the screen. "That doesn't look right," I mumble.
I work alone. Most people find this work incredibly tedious. So there is no one in the room to hear me.
The numbers are wrong.
That's my first reaction.
Wrong.
But how can they be wrong? The numbers change constantly. I stare and the feeling is overwhelming, washing over me in increasingly greater waves. It leaves my head spacey and my body aching.
Something is wrong.
I stand up. Perhaps I'm just tired. I've stared at these numbers for days — months — without break.
I close my eyes and rub hard at the chilled skin of my cheeks. Get a coffee. Go for a walk. Fresh air and caffeine is what I need.
I lock the door after me and head down the three flights of stairs that lead to my office tucked away at the rear of the science building. I do it to get the blood pumping. After all, I sit all day. That must be why my body aches. As I step out through the stairwell exit I'm hit by a blast of frigid air. I should have brought my coat. I head to the park. It's a lovely day despite the cold. The sun is shining and the ground is dry. A gentle breeze brings the scent of coffee and sugar to my nose and I make straight for the cart greeting the barista with a smile.
"Nice day, ey?"
"Oh yes," I agree and nod my thanks as he places the takeaway cup on the counter. With great reluctance, I return to my office. I don't feel particularly rejuvenated but I do feel more myself. Yes. I clearly needed a break. I unlock the door and return to my desk, sipping the hot bitter brew in tiny increments. I jiggle the mouse to activate my screen. The numbers are still wrong.
There's a seven that should appear right there. But it's … a zero.
And a five also becomes a zero.
Then a three becomes … a one. My mouth drops as I stare at the screen. Zeroes and ones.
Zeroes and ones. Shit.
I scramble for my translation program. Zeroes and ones. Computer language.
How is this even real?
I'm gasping in the silence of my office.
I don't understand.
Sweat has broken out over my skin. I swipe my finger beneath my nose and rub the cold dampness off on my trousers. I lean forward, as if the numbers will change if I can get close enough.
Computer language.
Someone, something is speaking to me.
Could this be a prank?
It must be.
My heart pounds as I wait for the translation to appear. When it does it is with little fanfare and I almost miss it.
We are coming.
Wait? What?
I jolt back, spinning my chair across the linoleum floor.
Um.
My hands tremble.
With a sharp move I switch the computer off at the wall.
I wait, frozen in the middle of the room, as if expecting something to suddenly happen.
After a few minutes I laugh at my paranoid behaviour. It's just a prank. Someone must have hacked my computer.
I decide I am finished for the day. I'm obviously not getting any work done. I'll deal with this silliness tomorrow. I flip off the lights and I close the door, locking it shut behind me. I take off down the corridor.
The lights above me flicker. I freeze.
Oh…
They are coming.

About the Author
Laurie Bell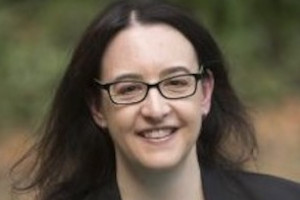 Laurie Bell lives in Melbourne, Australia. She was that girl you found with her nose always buried in a book. She has been writing ever since she was a little girl and first picked up a pen. From books to short stories, radio plays to snippets of ideas and reading them aloud to anyone who will listen.
She is the author of The Stones of Power Series via Wyvern's Peak Publishing: The Butterfly Stone, The Tiger's Eye and recently released, The Crow's Heart (YA/Fantasy). She is also the author of White Fire (Sci-Fi) and The Good, the Bad and the Undecided (a unique collection of short stories set during the events of White Fire/Sci-Fi). Her latest new release, Boss From Hell, is an Australian supernatural mystery, with a dash of comedy a hint of horror and a touch of romance.
You can read more of her work on her blog <solothefirst.wordpress.com>.
Look for her on Facebook: <www.facebook.com/WriterLaurieBell/> Twitter: <@LaurienotLori> and Instagram: <@writerlauriebell>