By Timothy Yang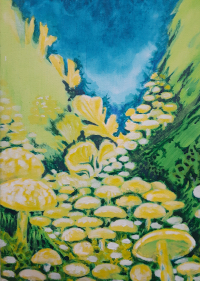 Fungi. Agents of decomposition. Harvested from carrion that littered the blackened fields, under corpses in the quiet cities. All traces of blight and the outside world are scoured away under steam. Then they are processed in salt. Sauteed. Fried. Grilled. Diced. Minced. Sauced. Served before you on a platter. In the end, no matter how the shrooms are disguised, they are impaled on your fork. Masticated. Digested. Expelled. Recycled.
This cycle is a ritual, a relic of the past, something we hold on to, to remind ourselves of what we used to be. Much like this survival dome, a metallic toadstool, a tombstone squatting in the detritus of Cairo, stuffed to the gills with the survivors of the blights. Oasis. Your home. For now.
"Everyday. Shrooms for every meal. I'd rather die than eat another one!" Masud pushed his plate of half-eaten morels away, the same way he did every meal. A ritual. He wiped his mouth and sighed. "The Sons of Joseph struck another shroom patrol yesterday. Akh is keeping it hush hush to keep morale up, but we're bleeding bad. A few more punches and Oasis will be out for the count."
"They must be desperate, your excellency," you said. "Starvation makes dangerous men."

You understood starvation. Seven years ago, the blights came, every manner of mildews and scourges and infestations in quick succession, decimating crops. They burnt the Amazon rainforest to control it. Didn't work. Taman Negara, a hundred million years old. Gone in a year. People didn't care. It'd grow back, they said. The cycle of life. Fake news. An isolated event.

It wasn't. Everything green died.
The prescient few built survival domes. Stocked with food. Well-defended, meant to last decades for a few families. Centuries, even. Of course, they were quickly overrun. Murdered. Replaced by men like Masud. Populist leaders who made bold promises of technological breakthroughs, new fungicides, new genetically engineered crops. Rations dwindled. Food grew scarce. People died. Including your family. But you. You survived, amidst the decay.
Masud picked at his plate of morels. "We need a breakthrough. Soon." His voice soft, dripping with menace. "And I mean soon, Dr Paaneah."

"We're very close, your excellency. We've identified a strain of corn immune to blight. Allah willing, in three months we might be able to have corn for dinner."

Masud rubbed his hands in glee. "I look forward to it."
Masud's guards cleaved a path through the crowded, claustrophobic corridors of the dome soaked with the sour smell of unwashed humanity. You followed in their wake. Trailing Masud. At the hydroponics bay, you demanded the guards stay outside. There were only two clean-suits for the cleanroom. Masud looked ridiculous, his displeasure evident as he packed his enormous frame into the white, plastic coveralls. But his greedy eyes gleamed when you opened the cabinet door and revealed the grow-box packed with the luscious green stalks, heavy with ears of corn.

"Blight-resistant," you said, voice even.

"You're a genius, Dr Paaneah. I could hug you right now." He ran his fingers across the corn. "We've saved humanity." He glances at the guards outside the hydroponics bay. "Who else knows about this?"
"No one, as requested. Just the two of us."

Masud nodded. "Excellent." He produced a gun. "Thank you for your service. Consider this an early retirement."

You frowned but didn't flinch. "You don't actually know if it's blight-resistant. Kill me, and there's no going back if the corn doesn't take to the soil outside."

"I'm not an idiot, Dr Paaneah. I know you're a spy for the Sons. I've been listening in on your weekly reports. The plants can survive. My men are harvesting your secret field right now."
That made you flinch. "I don't know what you're talking about."
Masud chuckled. "Don't believe me? Have a listen." He took out his radio and held it next to his gun pointed at you. You weren't sure which one to fear more, even though you saw this coming. "Akh, how's the harvest? Will we be feasting on corn tonight?"

"Looks good, your excellency," the radio crackled. "Lots of corn." A pause. "For the Sons of Joseph."

Masud's face paled. "What did you say?" Blood gouted forth from his mouth. His guard stood behind him, bloody dagger in hand. Masud slumped to the ground, clean-suit turning crimson. Another sacrifice. Another body for the rot.
You picked up the radio. Spoke into it, looking at the guard. "Good job, son."

"Thank you, Father."

About the Author
Timothy Yang
Timothy Yang lived and worked in Sydney and Melbourne as a doctor for ten years.
He previously won the Singapore National Arts Council award for short fiction, and his work has previously appeared in Quarterly Literary Review Singapore.