By Kevin J. Phyland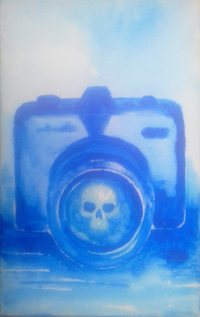 "Man...if you ain't the worst photographer I've ever seen you'll do till he shows up!"
Phillips chuckles away to himself as he puts on a wide-angle lens.
I look glumly at the rear screen on the digital camera. Somehow I'd missed the rider. And he was coming third at that stage. The Tour de France has riders packed into groups called pelotons, and somehow I'd missed him amidst three other riders as he cycled past.
"Let's call it a day," says Phillips after he takes a few crowd shots.
We pack up our gear and head back to the cheap hotel we'd been able to rent when we arrived.
My photography has been dogged by such incidents for as long as I can recall.
Going back as far as my stepfather's wedding. Nice shot really. Mum looked great but somehow Arthur never made it into the shot. No big deal. He died of a heart attack the next day. Perhaps Mum had more spark left in her than I thought.
Early risers photographers. Next morning it's six am. Phillips put the radio on and hums tunelessly while he shaves. I don't speak French so I am totally surprised when Phillips turns to me and says, "Geezus! Did you hear that? Falconi is dead! Heart attack. They suspect he was supercharging. Wouldn't surprise me...most of those eyeties are cheats." Phillips — no renaissance man he.
Falconi is the rider I had somehow managed to miss in my shot the previous day.
My mantra kicks in...batteries charged, lens-cap loose, spare batts and memory card in pouch. A couple of test shots in the motel room — bed, bathroom, mirror for flash adjustment and we're off again.
Day five takes the riders 196 kilometres from Cap D'Agde to Perpignan. The sprinters have one last go before the mountains start to sort out the men from the boys. I only hope the bend I'm on will be the money shot.
Phillips is grinning like a fox. "Hope you have the fast shutter today boy! They'll be doing about eighty before they hit that turn!"
We drive like lunatics, which makes us normal in France, and get to the spot about nine am.
Setting up on the bend we decide on, I notice that the light seems better on the far side of the road. "Hey, Phillips! I'm gonna set up on the other side. That okay?"
Phillips grunts either assent or exhales his breakfast, so I set up on the north side and start taking sighting shots. Strips of multi-coloured tape that keep the crowd from the road, a few trees, a couple of kids drinking Coke out of plastic cups with golden arches on them...the world got small years ago.
The hours tick by and we finally get word that the lead riders are about a kilometre away, with the peloton about 300 metres behind. Looks like it'll be a good call this corner.
"Hey!" yells Phillips. "Got your lens cap off, boy?" He laughs like a loon. I pick up the camera and take a snap of him.
"Yeah," I say. "And your fly is open."
He laughs again. I guess he thought I was kidding. I laugh to myself now.
The crowd roars. The first rider hits the straight and I'm set. Into the turn he goes. Amazing athlete. His yellow jersey would be only a flash but for my pan. I use f/8 and a tenth-of-a-second exposure. The money shots. Burst mode is giving me three high definition shots a second. Light is great. I've made the three seconds on the turn worth the trip.
Phillips is cursing across the road. The light is crap and he gets only headshots. I smile to myself.
The peloton zooms past and then the stragglers, but I'm done.
"Bugger it," says Phillips. "Let's go and have a drink."
The bar is full of touristas and locals so we have to make do with an outside al fresco table. I'm slowly going through the shots on the rear screen. The money shots are amazing. I'm thinking how much they might be worth when I notice something odd.
"Phillips," I say. "The other side of the road where you were...the sun couldn't have been that bright. I've missed you and the crowd. The rider shots are great, though."
He drags the camera from me. He looks for a while, clicking through the shots. He grunts once or twice then passes it back over. "Nice money shots," he says.
We are due to fly home next morning, since the sports rag we work for would only pony up the money for five days.
We pack our gear that night and have a few wines. I flick back through the shots I've made this week and upload them to my laptop. Most are great.
Something is bothering me, though. I put in the old memory card from this morning. The bed looks nice; so does the bathroom. The mirror shot must have been off-angle because Phillips isn't in it...even though I was aiming at him.
The TV flickers from 'Cheers' in French to a news item. A gas cylinder explosion in the town we were just in has exploded and killed about 200 people...mostly children and other locals. The scenes are appalling. A school not more than 500 metres from the turn I'd been on this morning. Just awful.
The hair on the nape of my neck rises. I have no rational reason for thinking what I'm thinking.
"What time is our flight tomorrow, Phillips?" I ask.
"Early. Five-thirty am. The good ol' A300 Airbus." He looks at me strangely. I look at him like a stranger.
"I'm staying on for an extra day," I say. "Out of my own pocket. I just want to see a bit more of France. You take the camera home for me."
Philips grunts, "Your funeral."
It's five am now. Phillips has gone...took a taxi for the airport. I'm just sitting quietly watching the TV. There is an old memory card from my camera sitting on the table beside me, flickering cobalt and steel-blue reflections from the light of the TV screen. I took a few shots of myself this morning in the car mirror while we were driving to our setup point.
With a slow, deliberate movement, I pick the card up and drag the cigarette lighter from my pocket. I set it alight. It melts slowly, flickering like a faded movie star's face.
I watch it die in the ashtray.
In the distance planes take off and land, lights blinking on and off.
And then, in the dawning light, the wail of sirens.

About the Author
Kevin J. Phyland

Retired after 33 years of teaching, Kevin now indulges his passions full-time: weather, reading and writing. His fiction usually embraces darker themes or the new weird, but lately he has gone back to more traditional old school SFF. He has set himself the task of reading every Stephen King novel, in order, and all of the recommended SF reading lists of Locus magazine for the last 35 years <http://www.sfadb.com/Locus_Awards_1983>. His eyes hurt.