By Kris Ashton

Three weeks of detective work concluded one sunny morning outside Town Hall Station. When I found Todd Frobisher he wore stain-blotched green pants, old white sneakers, and a moth-eaten T-shirt. A Panama hat could not quite contain his springy locks and his beard had not seen scissors in years. He clutched a small styrofoam cup, and a wine cask was tucked in at his side.
As I approached, he looked up with alcohol-scorched eyes and sniffed at me.
'Good morning,' I said.
'I'm not interested in being saved, so don't waste your time.'
'I'm no evangelist, believe me.'
His face was a bank vault. 'Just leave me alone. Go away.'
I nodded at the cask. 'You prefer white?'
'I prefer anything that takes the edge off. If I could afford blue-label scotch, that's what I would drink.'
I unshouldered my backpack and sat next to him, watching the workday folk hustle past. When there was a lull in foot traffic, I said, 'My name's Miles Tyson. I write for Modern Science magazine. Are you Todd Frobisher?'
He swilled some wine from his cup. 'Professor Todd Frobisher.'
'My apologies. You're a hard man to track down, Professor.'
He turned to me now, searching my face. Then he placed his cup beneath the cask tap and filled it to a line he'd scratched in with his thumbnail. 'What do you want?'
'The scientific community is very curious as to your whereabouts. And why you disappeared in the first place.' I cleared my throat. 'May I ask why you drink?'
'I already told you,' he said, rounding on me, 'to take the edge off.'
'To take the edge off what?'
He stared at me long and hard and remained unblinking for so long I began to wonder if he'd passed out with his eyes open or suffered a stroke. Then he knocked off the whole cup of wine in a single gulp. My stomach churned to witness it. He gazed into the cup's empty white pit.
'Do you really want to know?'
'Certainly.'
He clutched his cask in one claw-like hand and stood up. 'We have to go to Luna Park,' he said.
The dignity of this request piqued my sympathy — and my interest. 'Why do we have to go to Luna Park?'
'Because it has a house of mirrors. I need a concave mirror to explain it.'
I rolled this over in my mind. 'I imagine whatever mirrors Luna Park once had are long gone.'
The professor looked stung. My heart really went out to him.
'Look, let me make a few phone calls,' I said, guiding him back down to his seat. 'You don't need to go anywhere for a while, do you?'
He shook his head and refilled his cup again. His hands trembled as he did it.
I found a quiet alcove nearby and began my research. When I had the information I needed, I returned to the professor, who clutched his cup in both hands. 'What did you find out?'
'Like I thought, all the old mirrors in Luna Park were removed years ago and replaced with a new mirror maze.'
He looked forlorn. 'Perhaps we can find a similar mirror elsewhere. I'm not too sure where —'
'That's the bad news,' I broke in. 'The good news is the old ones are in storage up at North Sydney. It's a bit of a walk from the station, but if you're interested...?'
'There is nothing wrong with my faculties,' he said. He stood up, listed back and forth, then found a centre of balance. He grabbed his wine cask and managed to look imperious. 'Let's be on our way.'
I bought us return tickets to North Sydney. The professor had some trouble with the electronic barriers, so the guard called him over and ushered him through the pram-access gate. As we waited on the platform the professor muttered and sipped at his wine.
The train came and whisked us across the Harbour Bridge. As we looked out over the boat-flecked water, the professor seemed to forget his troubles. 'I haven't been over here in many years,' he said. But when we left the bridge behind and clattered into Milsons Point, his nerves started to splinter again.
We ascended North Sydney Station's busy stairs. This time the professor headed straight for the wide-access gate and flashed his ticket. We went up a second set of stairs and into the sunshine. I expected the professor to be out of breath, but I think I was blowing harder. I led the way up the hill. 'So what are we going to see, exactly?'
'All will be revealed when we find the mirror.'
As we went on I wished — not for the first time — that I'd obeyed my GP and shed ten or fifteen kilos of middle-age spread. When we crossed Miller Street, many fellow pedestrians wrinkled their noses at the professor. (He had an odour.)
We turned left near the cricket oval. The pedestrian clusters began to thin out and our surroundings became more suburban, with flats and terrace houses squeezed in among the buildings. I found the address the lady at the Heritage office had given me. It was a huge edifice with a wide roller door at its base. 'Wait here,' I said to the professor. I walked down a short ramp and into the reception area.
'What can I do for you, mate?'
'I called earlier,' I said. 'I understand you have some mirrors in storage here.'
He smiled. 'Yeah, they're those wonky ones that make you look all fat and short or tall and skinny.'
'I have a homeless man with me,' I said, motioning faintly with my head. 'He desperately wants to see them for some reason and... well, I think it would be good therapy for him if he could. Sometimes a dose of reality can be healthy.'
The man looked up dubiously at the professor. I handed him a fifty-dollar note. After a pause he pocketed it and said, 'All right, you can come in, but if he breaks anything I'm sending you the bill. Got it?'
'Thanks, you're very kind.' I stepped back outside. 'Professor! Please come and join us.'
The professor trudged down the ramp. As he entered he looked around mistrustfully. Tall scaffolding formed a perimeter around a concrete floor, like a jail turned inside out. Possessions in transit — chairs and other office equipment, vintage cars covered in dust cloths, even hideous statues — vied for space. The man who had greeted us snapped on a switch and half a dozen lights burned into life, throwing a million shadows. 'The mirrors are in the top left corner over there. Just make sure you hold the rail on the way up,' he said, his eyes asking if we understood each other.
When I nodded, he withdrew and left the professor and me to our business. We started across the floor amid the smell of dust and the faint hum of an air conditioner.
The professor barely seemed to notice the stairs we climbed. A gathering of tall ghosts confronted us at the top; mirrors draped in protective sheets.
'So what is it that you want to show me? There's something here that makes you drink?'
'Not precisely. Help me remove these covers.'
We began to pull them down. They were made from a soft but heavy material and as we slid them off a dust blizzard rose up, irritating our eyes and throats. The first mirror we unveiled made us look tall and thin.
'That's not the one I'm after,' the professor said. I was pleased to see his wine cask and cup set aside on a box.
We uncovered another mirror from which the glass was missing altogether. When we uncloaked a third, the professor stood back and nodded. 'Perfect. Ideal.'
I looked at our reflections. We were squat and fat, like a couple of dark gnomes hiding in a glade.
'Is this what you wanted to show me?'
'No, but it will help me explain something.' His sudden clarity of voice startled me. 'About five years ago I worked with another professor, Jim Nastrum, who was a keen philosopher as well as a scientist. We were studying time and perception.' He paused as though collecting his thoughts. 'Have you ever noticed how fast time seems to go by these days?'
'Sure,' I said.
'Faster, in fact, than when you were younger.'
'I suppose so.'
'Why do you think that is?'
I considered this. 'I guess it's because we can do things so much faster. We have devices that can do in seconds what used to take hours. We expect to fit a lot more into a day.'
'A fair assumption, but an incorrect one. Professor Nastrum and I were intrigued that so many people thought months seemed to race by in the modern world. Speak to someone in their forties or speak to someone in their eighties and they will both agree that time passes faster now than when they were younger. It's not just perception. It's because light is slowing down.'
I raised an eyebrow. It was that or burst out laughing. 'Slowing down?'
'Are you familiar with the concept of time dilation?'
'Of course I am.'
'Explain it to me.'
'The closer you get to the speed of light, the slower time passes.'
'But it wouldn't seem that way to you, because everything you perceive is also moving at that speed. Now, because there is no real way to quantify perception, we decided to conduct a poll. We spoke to thousands of people about time and when they thought it had started to move faster. The general consensus was sometime between twenty-five and thirty years ago.'
'Some sort of mass hypnosis?'
'Not hypnosis,' the professor said sharply. 'Look in the mirror. Tell me what you see.'
I looked again at our images, mashed by the mirror's concave shape. 'We're all squashed down.'
'Exactly. It is the same thing you have been looking at your whole life, only your perception of it has changed. It has been squashed in, compacted.'
'So you're saying when we look back, the past — or our past perception — is squashed.'
He nodded. 'But it is worse. The data we collected suggests the effect is accelerating. As the speed of light continues to slow, our past-perception is growing ever more compacted, so in hindsight now a week might seem like a couple of days. When a year passes, in retrospect it doesn't seem like a year at all.'
My shape in the mirror made me feel unwell. I turned to look at the professor instead. 'So what are you saying?'
'If time continues to slow, our past perception could contract to the point where we will barely have memories. Our whole life will seem to have been but a second. Taken to its conclusion, our whole sense of past could be wiped out.'
My lungs struggled to filter enough oxygen from the dusty air. 'Did you explain your findings to anyone? Surely if the speed of light is decreasing, you have hard empirical evidence. A simple measurement would show it to be the case.'
'It doesn't show up on tests.'
'Hang on. So, the speed of light is still constant at 186,000 miles per second?'
'No. But that is what tests show.'
'You've lost me.'
The professor sighed. 'Are you familiar with the twin paradox?'
I nodded. 'Two twins are born at the same time. One is put in a spaceship that travels at close to the speed of light and the other remains on earth. Five years pass in the spaceship, while a hundred years pass back on earth. The twins age differently.'
'Near enough. So light defines how we perceive time. If it slows down, then the instruments we use to measure it are also subject to that slow-down. Therefore, its speed appears to remain constant.'
'So what you're saying is there's no way to falsify your hypothesis?'
'You sound just like them.' The professor stooped to refill his cup.
'Well, if you really believe what you say, why haven't you tried to do something about it instead of becoming a hermit and drinking yourself half to death?'
The professor snorted. 'Do what? Increase the speed of light? How would you have me do that?'
We did not bother to re-cover the mirrors before we left. We caught the train back in silence, neither of us paying much attention to the harbour.
***
Back at the office that afternoon the other journos had a good laugh when I recounted my experience. But in the evening I found myself staring at the ceiling and thinking about Professor Frobisher's hypothesis. It's unscientific balderdash, of course, which is what I tell myself when sleep eludes me. Sometimes it helps, but not often.
The insomnia has started to mess with my concentration and simple mistakes have been creeping into my work, so last week I put in for some time off.
Or was it the week before?

About The Author
Kris Ashton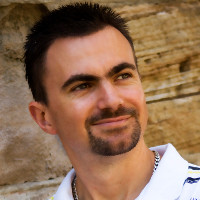 Kris Ashton is an Australian author, travel writer and motoring journalist. He has published three novels and nearly forty short stories, mostly speculative fiction. He lives in the wilds of south-western Sydney with his wife, two children, and a slightly mad boxer dog.