By Deborah Sheldon

My foot calluses have fallen off. They're floating around me like rinds of parmesan cheese. Disgusting. But fascinating at the same time. Twirling in slow motion. When I signed up, nobody warned me about this. I was a big guy – over six feet, more than 300 pounds – and foot calluses have been part of my life ever since puberty hit.
And now?
Well, the calluses fled like proverbial rats abandoning the sinking ship. I expect you're mulling over my choice of analogy. Does it mean I believe the ship is my body? Or my mind? I'm not sure myself. If only you would answer. Making sense of what's happening is getting trickier by the day, Dr Sharipov, let me tell you.
For starters, it's too quiet in the station. Deathly silent. Nobody warned me about this either. Prior to blast-off, I figured the equipment might buzz or tick or whirr, but the hush makes my eardrums ache. I gaze out the porthole and try to imagine the whisk and whipping zip of planets circling and asteroids streaking, the creaking crack of space. But there's no air or water, meaning sound waves can't travel, so I can't fool myself.
In some ways, the training gave me too much information. In other ways, not enough.
A few of my calluses look honeycombed. Ugh. That my shed skin resembles food – either cheese rinds or honey – makes my stomach turn over. I miss real food. Dream about it. Can a stomach turn over in zero gravity? The station rotates so fast. One full orbit every ninety minutes. From the porthole, sixteen times a day, I can watch Australia whizz past. I do this month after month after month. And Earth just looks like a blue-green beachball.
Such a disappointment.
Ever since the moon landing, astronauts have crapped on about how special and magnificent it feels to look upon Earth; for the whole human race to be down there and the astronaut up here, mimicking God. Well, it doesn't feel that way at all. That transcendental holier-than-thou blather is bullshit. Want to know how it feels? Exactly like staring out a window at a blue-green beachball.
I sleep lashed to the side of the privacy pod, cocooned within a million-dollar bedroll, which keeps me from bumping around. Apparently, bumping around is dangerous. Not every switch is foolproof. Apparently, I could accidentally touch a switch and trigger a catastrophe. A single knock could wrench this space station from its orbit and send it hurtling through the atmosphere at 17,500 miles per hour, aflame with a white-hot tail, to crater its wreckage on some point on Earth. A city somewhere in South America, I imagine. Or Europe, maybe. I lie awake, swaddled in my bedroll that slides and heaves on weightless waves, and think about the apocalypse. I like to contemplate the world's terrible, awful end.
Because this wasn't my ambition: I never gave a shit about space travel. I wanted to play football. Hah. Too slow, too heavy. But you knew that already, didn't you, Dr Sharipov? All my stats on file. I needed the money. Lately, I've got to wondering why you people okayed me for this test flight. Was it to see what would happen to a big guy's body? Well, you've learned that foot calluses peel off. What else were you hoping to find out? What else do you hope for me to shed?
Ground Control's radio channel is dead. But you're my psychiatrist and I'm obviously your lab rat, so there must be hidden microphones. I know you're listening. As this space station twirls and spins, I know you're listening to me. There must be hidden cameras in here too. Can you see my foot calluses, Dr Sharipov? Floating, yellowed strips of parmesan rind. Can you see the rest of me? All of me? I shucked my spacesuit a long time ago. My cock and balls bobble about, pale and goose-fleshed, so pathetic I can't help but laugh. At blast-off, I had a crewcut but now my hair waves its overgrown curls like seaweed caught in the tide, and my beard is long and knotted. I'm so thin I can see my bones. Knobbly knees, swollen elbows. My hands and feet look too big.
And whenever the sunlight hits the porthole just right, the air inside this station reveals itself to be full of dust. On Earth, household dust is seventy percent skin cells. But what else is there to comprise the dust inside this station but skin cells? Perhaps spit. Phlegm. Snot. Every time I cough, sneeze, talk, sing, beg, shout, scream, I must release globules. They're floating around me, thick as soup. I'm choking on the detritus of my own unravelling body. There's more of me outside than inside by now. I piss down the vacuum pipe but since I ran out of plastic bags, my shit bobs around me too. These days, I don't shit that often. After careful rationing, the food supply finally ran out today. My last meal was a tablespoon of rehydrated peanut butter.
Please, I'd like to come home. I've had enough.
What bothers me most is the teeth. Not my own teeth. The other volunteer and I couldn't share this tiny space together without eventually going mad. But you knew that would happen, didn't you? One of us had to go mad. I think it was him. I tore him to shreds and stuffed most of him in his bedroll. But his teeth keep drifting past my eyes, as well as little chunks of him that resemble foods like prosciutto and blobs of fig jam, making me both salivate and want to puke, so won't you let me come home? Please? Or maybe I should flip a few switches. Try to crash this thing. But I don't know what any of the switches do.
Dr Sharipov. Let me come home.

About the Author
Deborah Sheldon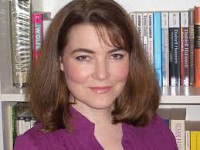 Deborah Sheldon is an award-winning author from Melbourne, Australia. She writes short stories, novellas and novels across the darker spectrum. Some of her titles include the horror novels Body Farm Z, Contrition, and Devil Dragon; the horror novella Thylacines; the romance-suspense novella The Long Shot; and the collections Figments and Fragments: Dark Stories, and the award-winning Perfect Little Stitches and Other Stories (Australian Shadows "Best Collected Work 2017"). Her short fiction has appeared in Quadrant, Island, Aurealis, Midnight Echo, Breach, AntipodeanSF and many other well-respected magazines. Her fiction has been shortlisted for numerous Australian Shadows Awards and Aurealis Awards, long-listed for a Bram Stoker Award, and included in various "best of" anthologies. Other credits include TV scripts, feature articles, non-fiction books, stage plays, and award-winning medical writing. Visit her at <deborahsheldon.wordpress.com>