By Chuck McKenzie
'Holy shit!'
Jim switched off the projected quantum field surrounding the sealed plastic crate and checked the readings. Then he checked them again. Then, trembling slightly, he cleared his throat and turned to the nearest camera.
'Schrödinger's Stasis Wave, test number…uhm…five-seven-two. The, ah… subject inside the enclosure no longer demonstrates any accepted signs of life. No respiration. No heartbeat or pulse. Even cellular activity is rapidly slowing, according to the readings. And yet —'
Jim glanced towards the observation window. 'And yet, we're still registering movement. Quite significant movement. The subject is basically…pacing up and down inside the enclosure! Holy shit.' He laughed nervously. 'Sorry. Poor choice of words for the official record, but…I think we've done it! We've achieved a perfect state of quantum superposition! We have a subject that's paradoxically both alive and dead simultaneously! Holy shit, the applications —'
Jim stopped and took a deep breath. 'Ok, sorry — getting ahead of myself. Let's get the physical exam done.' He moved to the medical cart beside the door and picked up a pair of latex gloves, pulling them on as he entered the testing room. 'This is amazing! Thank you, Erwin Schrödinger, for the inspiration..!'
Inside the crate the undead cat paced restlessly, glaring into darkness with milky eyes. Waiting for the crate to be opened. Waiting to feed.

About the Author
Chuck McKenzie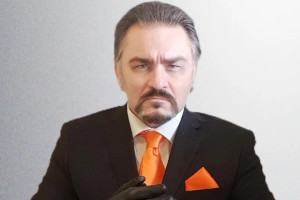 Chuck McKenzie was born in 1970, and still spends much of his time there.
He also runs the YouTube channel 'A Touch of the Terrors', where — as 'Uncle Charles' — he performs readings of his favourite horror tales in a manner that makes most ham actors look like Gielgud.